Kompare is an open source GUI front-end program that enables differences between source files to be viewed and merged. Kompare can be used to compare differences on files or the contents of folders. Kompare supports a variety of diff formats and provide many options to customize the information level displayed.
Whether you are a developer comparing source code, or you just want to see the difference between that research paper draft and the final document, Kompare is a useful tool.
Kompare is part of the KDE desktop environment.
Features include:
Comparison of files or directories via a graphical interface.
Bezier-based connection widget lets you see both source and destination as they really appear.
Graphical viewing of patch files in normal, context, unified and diff formats.
Interactive application of differences.
Full network transparency.
Ability to view plain-text diff output in the embedded viewer.
Easy navigation of multiple-file diffs with the dockable navigation tree.
Graphical interface to commonly used diff command line options.
Switch source and destination with one command.
Website: userbase.kde.org/Kompare
Support: Handbook
Developer: The Kompare Team
License: GNU GPL v2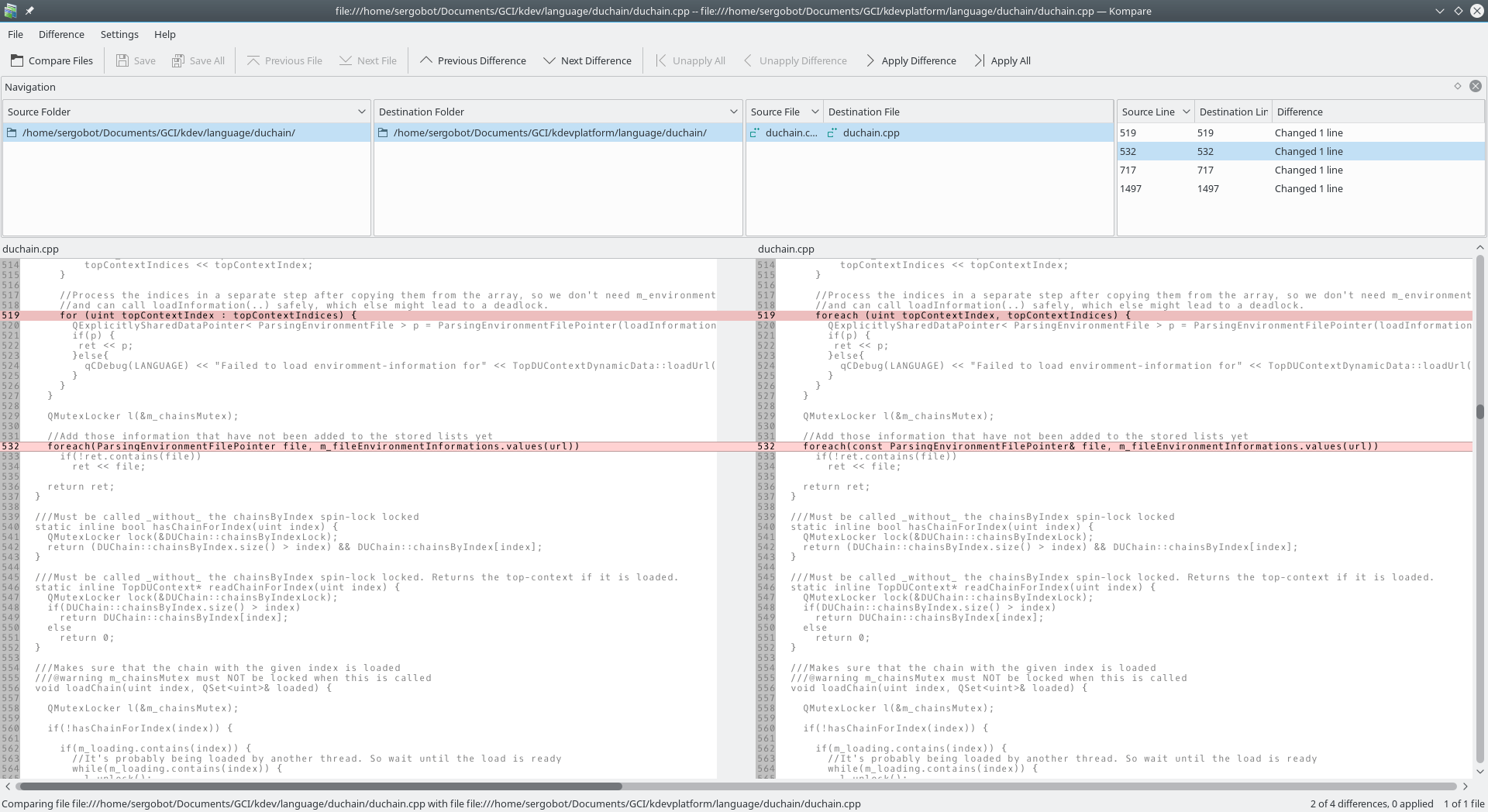 Kompare is written in C++. Learn C++ with our recommended free books and free tutorials.
Return to Diff Tools Home Page
---
Popular series
New to Linux? Read our Linux for Starters series.
The largest compilation of the best free and open source software in the universe. Supplied with our legendary ratings charts.
Hundreds of in-depth reviews offering our unbiased and expert opinion on software.
Alternatives to Google's Products and Services examines your options to migrate from the Google ecosystem with open source Linux alternatives.
Alternatives to Microsoft's Products and Services recommends open source Linux software.
Alternatives to Adobe Cloud is a new series looking at free and open source alternatives to products available from Adobe Cloud's subscription service.
Essential Linux system tools looks at small, indispensable utilities, useful for system administrators as well as regular users.
Linux utilities to maximise your productivity. Small, indispensable tools, useful for anyone running a Linux machine.
Home computers became commonplace in the 1980s. Emulate home computers including the Commodore 64, Amiga, Atari ST, ZX81, Amstrad CPC, and ZX Spectrum.
Now and Then examines how promising open source software fared over the years.
Linux at Home looks at a range of home activities where Linux can play its part, making the most of our time at home, keeping active and engaged.
Linux Candy opens up to the lighter side of Linux. Have some fun!
Best Free Android Apps. There's a strict eligibility criteria for inclusion in this series
These best free books accelerate your learning of every programming language
These free tutorials offer the perfect tonic to the free programming books series
Stars and Stripes is an occasional series looking at the impact of Linux in the USA