xxdiff is an open source graphical file and directories comparator and merge tool.
xxdiff can be used for viewing the differences between two or three files, or two directories, and can be used to produce a merged version. The texts of the two or three files are presented side by side with their differences highlighted with colors for easy identification.
This program is an essential software development tool that can be used to visualize the differences between files or directories, merge files with differences, resolving conflicts and saving output to a new file or patch, and assist file changes reviewing and comment production (e.g. approving source code changes before they get merged into a source tree).
Features include:
Compare two files, three files, or two directories (shallow and recursive).
Horizontal diffs highlighting – compute the diffs between pairs of matching lines, i.e. horizontal diffs. The differing parts are highlighted with a brighter color.
Files can be merged interactively and resulting output visualized and saved.
Features to assist in performing merge reviews/policing.
Unmerge CVS conflicts in automatically merged file and display them as two files, to help resolve conflicts.
Uses external diff program to compute differences: works with GNU diff, SGI diff and ClearCase's cleardiff, and any other diff whose output is similar to those.
Fully customizable with a resource file.
Look-and-feel similar to Rudy Wortel's/SGI xdiff, it is desktop agnostic.
Features and output that ease integration with scripts.
Website: urius.ca/xxdiff
Support: GitHub Code Repository
Developer: Martin Blais
License: GNU GPL v2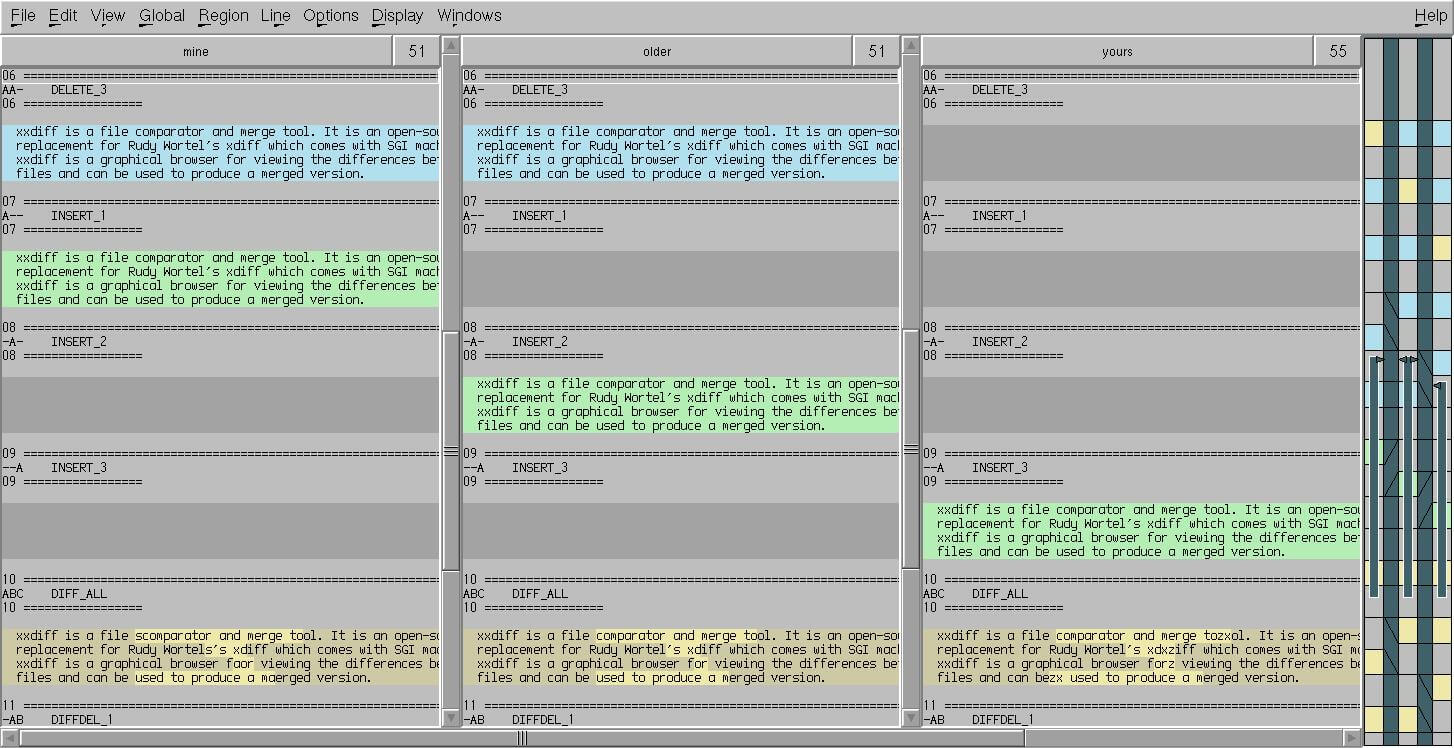 xxdiff is written in C++ and Python. Learn C++ with our recommended free books and free tutorials. Learn Python with our recommended free books and free tutorials.
Return to Diff Tools Home Page
---
Popular series
New to Linux? Read our Linux for Starters series.
The largest compilation of the best free and open source software in the universe. Supplied with our legendary ratings charts.
Hundreds of in-depth reviews offering our unbiased and expert opinion on software.
Alternatives to Google's Products and Services examines your options to migrate from the Google ecosystem with open source Linux alternatives.
Alternatives to Microsoft's Products and Services recommends open source Linux software.
Alternatives to Adobe Cloud is a new series looking at free and open source alternatives to products available from Adobe Cloud's subscription service.
Essential Linux system tools looks at small, indispensable utilities, useful for system administrators as well as regular users.
Linux utilities to maximise your productivity. Small, indispensable tools, useful for anyone running a Linux machine.
Home computers became commonplace in the 1980s. Emulate home computers including the Commodore 64, Amiga, Atari ST, ZX81, Amstrad CPC, and ZX Spectrum.
Now and Then examines how promising open source software fared over the years.
Linux at Home looks at a range of home activities where Linux can play its part, making the most of our time at home, keeping active and engaged.
Linux Candy opens up to the lighter side of Linux. Have some fun!
Best Free Android Apps. There's a strict eligibility criteria for inclusion in this series
These best free books accelerate your learning of every programming language
These free tutorials offer the perfect tonic to the free programming books series
Stars and Stripes is an occasional series looking at the impact of Linux in the USA