Vy is a Vim-like program written from scratch.
Vy is a modal editor with a very modular architecture. A modal editor is an editor that can be in different states. Vy is built on top of Tkinter.
In Vy it is easy to create modes like it is in Emacs, modes that support programming languages, provide all kind of functionality that varies from accessing IRC or email checking. The set of keys used in Vy were carefully chosen.
Vy requires Python 3.
Features include:
Open multiple vertical/horizontal panes to edit different files.
Tabs / Panes – panes are associated to filenames, and work in a similar way to tabs.
Fuzzy search.
Quick snippet search.
Smart search with The Silver Searcher.
Incremental search.
File manager.
Syntax highlighting plugin is very minimalistic and extremely fast. It supports syntax highlighting for all languages that python-pygments supports (300+ languages).
Simple and consistent terminal-like plugin in vy that turns it possible to talk to external processes.
Implements a Python debugger plugin and auto completion that permits debugging Python code easily. There's also a Golang Delve debugger, GDB debugger, and Nodejs inspect debugger.
Rope refactoring tools.
Python Pyflakes integration.
Python static type checker.
Python vulture integration.
HTML Tidy integration.
Powerful plugin API.
IRC client plugin.
Good shortcuts.
Python auto completion – uses jedi Python library to implement auto completion for python code
Ruby auto completion.
Golang auto completion.
JavaScript auto completion – uses ternjs.
Ycmd/YouCompleteMe auto completion.
Easily customizable.
Very efficient in terms of hardware resources.
Good documentation.
Website: github.com/vyapp/vy
Support: Documentation
Developer: Iury de Oliveira Gomes Figueiredo
License: MIT License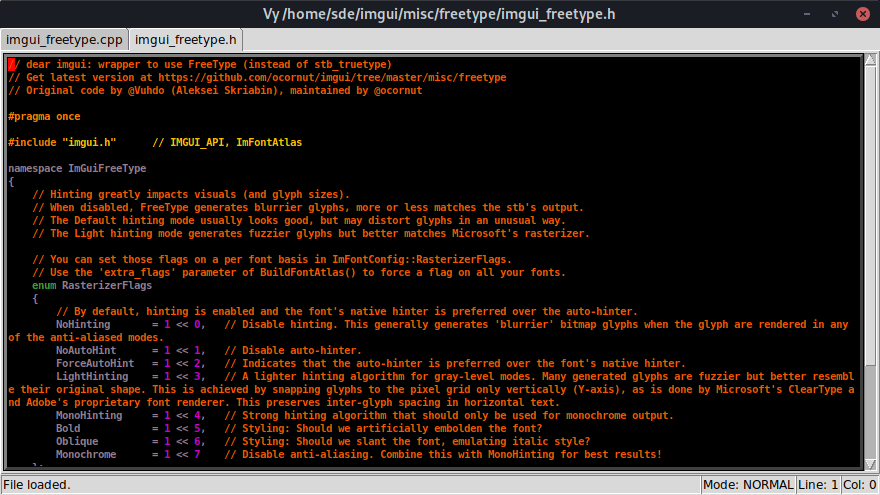 vy is written in Python. Learn Python with our recommended free books and free tutorials.
Return to Vim-Like Text Editors Home Page