vile (VI Like Emacs) is an open source text editor.
This program retains the feel of vi, while adding the multiple buffer and multiple window features of Emacs and other editors.
vile is Vi(m) like, but not a clone, as some core functionality is not present, and its appearance is not identical. The program is built from a combination of hand-crafted code and tables processed by a special-purpose program.
vile has been in development since 1990.
There's an X version of vile available, called xvile. It's the same text editor, built as an X-windows program, with fully integrated mouse support, scrollbars and more.
Features include:
All of vi's good features have been retained, such as searching with the / and ? keys, and command repeating with a ".".
Infinite undo.
Supports multiple windows.
Read from pipes.
Complex fences.
Command completion – covering the command name, filename, directory name, and mode values.
Major modes.
Vile commands can be linked together in repetitive or conditional ways using various builtin directives (e.g. "if", "else", "while", "break", etc), and intermediate results can be stored in string-valued temporary variables.
Syntax highlighting – runs a syntax filter program which parses the buffer contents. Most of these syntax filters use lex. Each filter reads one or more keyword files, which list specific keywords and their highlighting attributes, as well as classes of keywords.
Macro language and use of environment variables offers scripting functionality.
Supports Perl as an extension language by embedding a Perl interpreter into the editor.
Directory browser extension with the Perl interface:

Two panel display for separate listing of directories and files
Configurable color highlighting based on the type of the file
Recognizes broken symlinks
Hypertext based directory traversal and file viewing
MIME aware capabilities to view files using appropriate applications
Plugins extension to the MIME library to allow to view certain files within vile after passing through a vile based Perl filter routine.

Comprehensive help file is available via a keystroke within the editor.
Website: invisible-island.net/vile
Support: FAQ
Developer: Kevin Buettner, Paul G Fox, Tom Dickey
License: GNU General Public License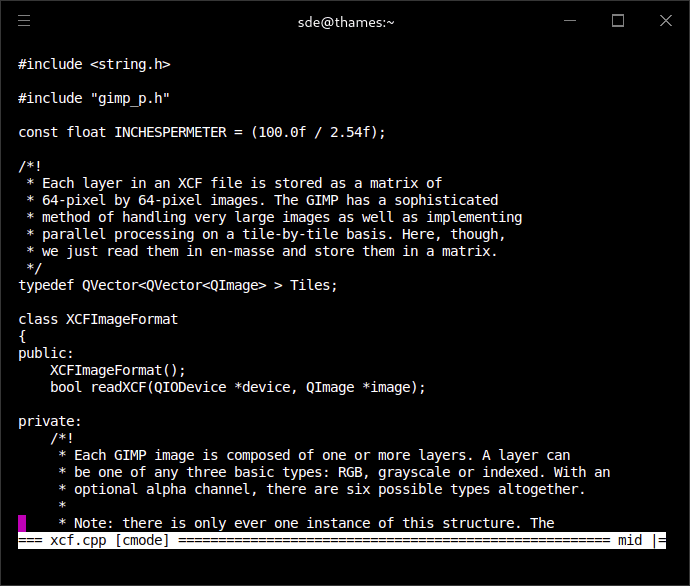 vile is written in C. Learn C with our recommended free books and free tutorials.
Return to Vim-Like Text Editors Home Page