Taisei is a top down perspective shoot'em up game in the style of the Tōhō Project. It's fast, furious, and good fun to play.
The Touhou Project is a series of Japanese bullet hell shooter video games developed by the single-person Team Shanghai Alice. The game is set in an isolated world full of Japanese folklore. Taisei is a very challenging game to play, particularly if you've never played bullet hell type games. Even the 'easy' mode is not easy.
In a shoot 'em up, the player character engages in a lone assault, often in a spacecraft or aircraft, shooting large numbers of enemies while dodging their attacks. The bullet hell tag reflects the plethora of bullets that you must avoid.
Features include:
2 characters to play who have different shots:

Kirisame Marisa.
Konpaku Yōmu.

6 levels (stages) to tackle. Each stage has a boss and a mid boss:

Misty Lake.
Walk Along the Border.
Through the Tunnel of Light.
Forgotten Mansion.
Climbing the Tower of Babel.
Roof of the World.

4 skill levels:

Easy.
Normal.
Hard.
Lunatic.

Collect items by killing enemies:

Blue – increases your score.
Red – boosts your power.
Green Star – Bomb. Appears either filled (full bomb) or as an empty outline (bomb fragment). 5 fragments get you a bomb.
Pink Star – Life or Life fragment.

Focus fire – makes your weapon more focused at the expense of maneuverability. The mode helps to dodge bullets.
Support for game controllers – uses SDL2's unified GameController API.
A special mode where you can practice the game's levels.
Fully portable replays.
Uses complex math for projectile positioning.

BGM support

.
Website: taisei-project.org
Support: Game Manual, GitHub Code Repository
Developer: Lukas Weber, Andrei Alexeyev
License: MIT License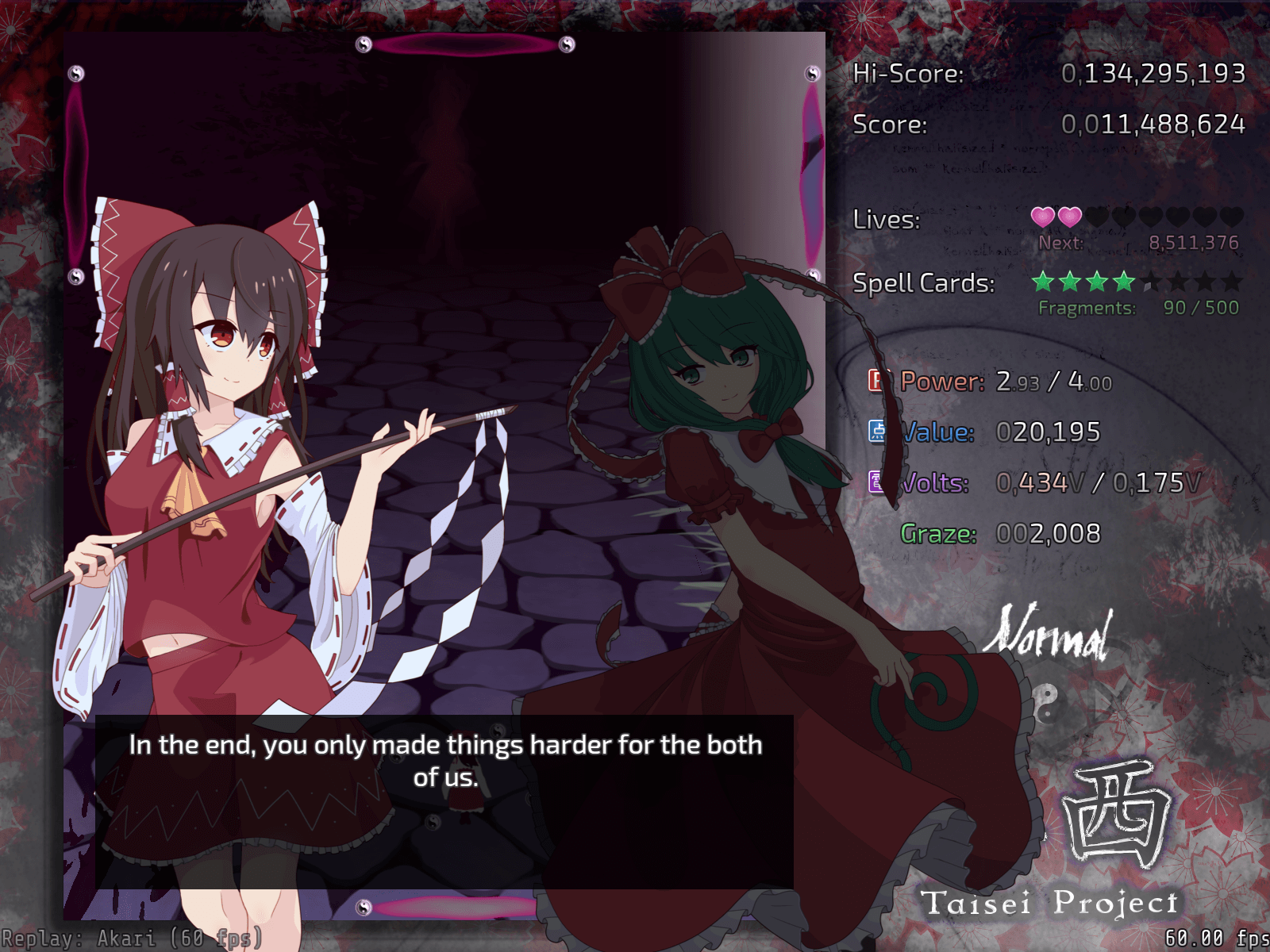 Taisei is written in C. Learn C with our recommended free books and free tutorials.
Return to 2D Shooter Games Home Page
---
Popular series
New to Linux? Read our Linux for Starters series. We start right at the basics and teach you everything you need to know to get started with Linux.
The largest compilation of the best free and open source software in the universe. Each article is supplied with a legendary ratings chart helping you make informed decisions.
Hundreds of in-depth reviews offering our unbiased and expert opinion on software. We offer helpful and impartial information.
Replace proprietary software with open source alternatives: Google, Microsoft, Apple, Adobe, IBM, Autodesk, Oracle, Atlassian, Corel, Cisco, Intuit, and SAS.
Getting Started with Docker helps you master Docker, a set of platform as a service products that delivers software in packages called containers.
Essential Linux system tools focuses on small, indispensable utilities, useful for system administrators as well as regular users.
Linux utilities to maximise your productivity. Small, indispensable tools, useful for anyone running a Linux machine.
Home computers became commonplace in the 1980s. Emulate home computers including the Commodore 64, Amiga, Atari ST, ZX81, Amstrad CPC, and ZX Spectrum.
Now and Then examines how promising open source software fared over the years. It can be a bumpy ride.
Linux at Home looks at a range of home activities where Linux can play its part, making the most of our time at home, keeping active and engaged.
Linux Candy reveals the lighter side of Linux. Have some fun and escape from the daily drudgery.
Best Free Android Apps. We showcase free Android apps that are definitely worth downloading. There's a strict eligibility criteria for inclusion in this series.
These best free books accelerate your learning of every programming language. Learn a new language today!
These free tutorials offer the perfect tonic to our free programming books series.
Stars and Stripes is an occasional series looking at the impact of Linux in the USA.