Plugins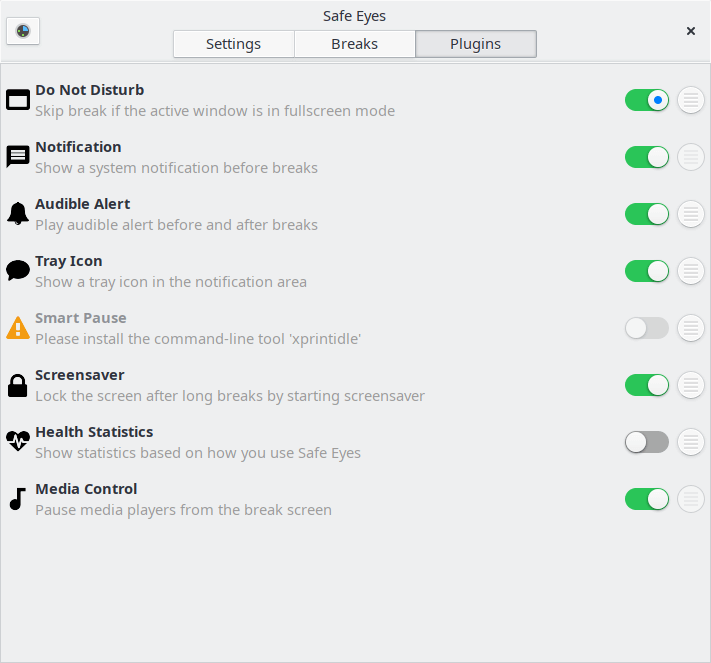 The Plugins tab enables you to toggle Safe Eyes features. The Do Not Disturb has a few settings. By default it'll skip a break if the active window is in fullscreen mode. You can also instruct the software not to interrupt any specific windows at any time, or interrupt specified windows regardless of whether they are in fullscreen.
The Notification plugin lets you disable system notifications.
The Audible Alert plugin lets you enable/disable audible alerts before and after breaks.
The Tray Icon plugin lets you enable/disable the tray icon in the notification area of your desktop. You can also have the next break time shown in the tray icon, as well as the option to disable Safe Eyes.
By default Smart Pause was disabled on my system, as I need to install xprintidle.
The Health Statistics plugin shows statistics based on your usage of the software. When a break is underway, the plugin reports the number of breaks, skipped breaks, cycles, and screen time. In addition, it shows a green heart or a broken red heart indicating your RSI status. The green heart indicates everything is ok, whereas the broken red heart indicates you skip many breaks or actively use the computer for more than 6 hours.
The stats are reset every time you close Safe Eyes, but there's an option to "Persist internal state" which keeps all statistics even if Safe Eyes is closed. Stats are reset every 24 hours. This interval can be altered to a maximum interval of 168 hours. There's no option to keep stats over any longer period.
The Media Control plugin lets you pause media players from the break screen.
Pages in this article:
Page 1 – Introduction / Installation
Page 2 – In Operation
Page 3 – Settings
Page 4 – Breaks
Page 5 – Plugins
Page 6 – Summary