Profanity is a console based XMPP client using ncurses and libstrophe, inspired by Irssi.
Profanity only supports one account per instance. But you certainly can run several instances of Profanity.
The user interface is split into four main areas: Title bar, main window area, status bar, and input bar.
Profanity is free and open source software.
Features include:
Supports encrpytion – OTR, PGP, and OMEMO.
Supports XMPP chat services.
Roster management.
Flexible resource and priority settings.
Provides an API for plugins to access various functionality. Plugins may also implement 'hooks' that Profanity will call on specific events.
Supports plugins written in Python and C. Examples include:

ascii.py – convert text to ascii art text and send to the current recipient or room.
browser.py – open received links in the system default browser.
clients.py – show client software used by each occupant in the current chat room, using xep-0092 Software Version.
imgur.py – send a local image file or a screenshot to a recipient or chat room using imgur.com.
paste.py – send the contents of the clipboard to the current recipient or room.
termuxnotify.py – notifications for Termux on Android.
presence_notify.py – configure desktop notifications for presence updates from contacts.
say.py – read out loud messages from recipients or in chat rooms.
sounds.py – play sounds when messages received.
syscmd.py – display the result shell commands in a new window. Send results of shell commands to recipients or chat rooms.
wikipedia-prof.py – search wikipedia and show search results, pages, links etc in a new window.

Cross-platform support – runs under Linux, FreeBSD, OpenBSD, Android, Mac OS X, and Windows.
Website: profanity-im.github.io
Support: User Guide, FAQ, Mailing List, GitHub Code Repository
Developer: James Booth
License: GNU General Public License, either version 3 of the License, or (at your option) any later version.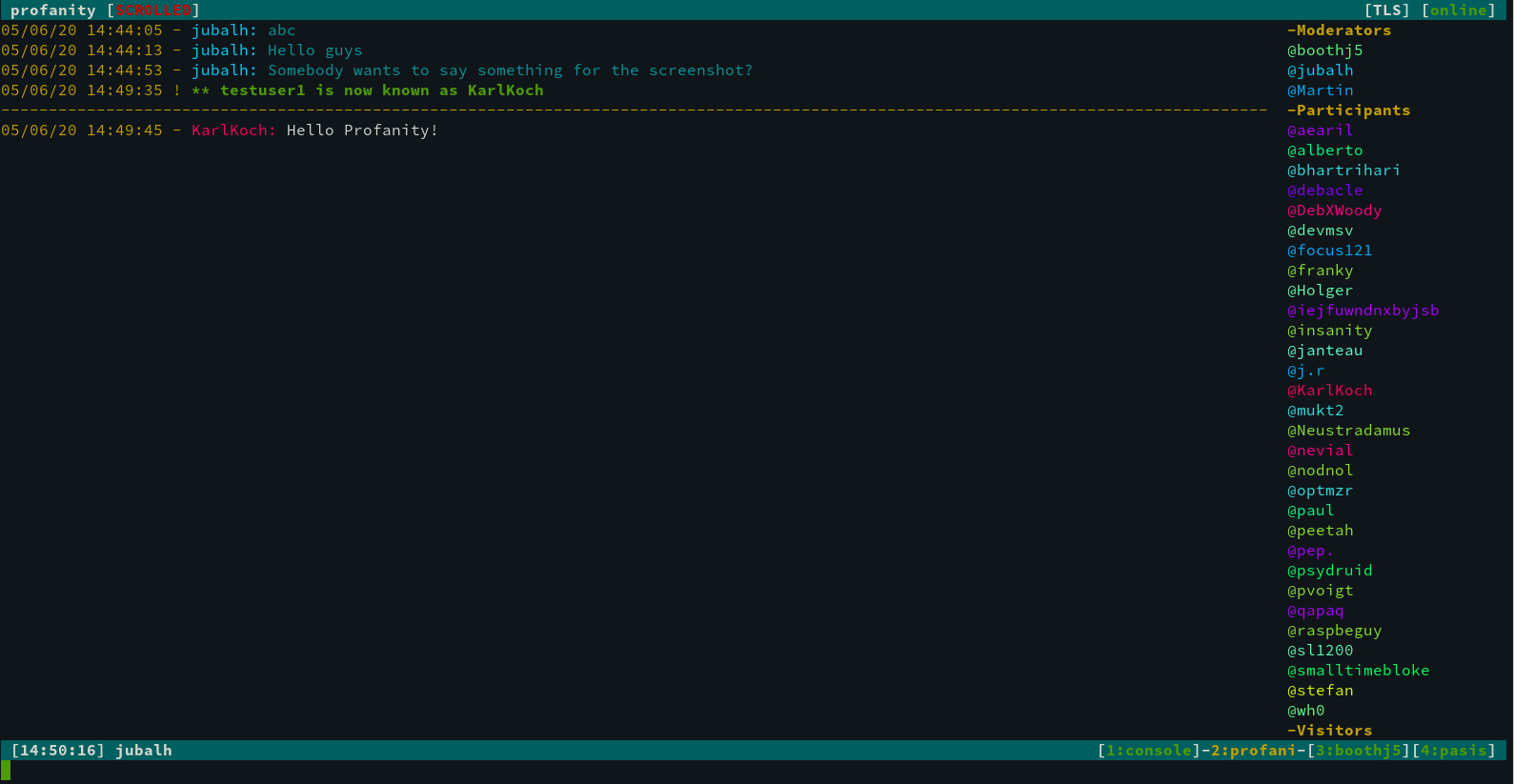 Profanity is written in C. Learn C with our recommended free books and free tutorials.
Return to Console-Based XMPP Clients Home Page
---

Click the button to make a donation via flattr. Donations help us to maintain and improve the site. You can also donate via PayPal.


---
Read our complete collection of recommended free and open source software. The collection covers all categories of software.

The software collection forms part of our series of informative articles for Linux enthusiasts. There's tons of in-depth reviews, alternatives to Google, fun things to try, hardware, free programming books and tutorials, and much more.