The developers of ONLYOFFICE Docs rolled out a new version of their collaborative office suite that comes with a lot of new features and improvements for text documents, spreadsheets, presentations and fillable forms. Let's take a deep look at what's new in this version of the ONLYOFFICE online and desktop editors.
Draw whatever you want
ONLYOFFICE Docs v7.4 offers new drawing tools allowing you to draw whatever you want in your documents, spreadsheets, presentations and fallible forms. Using the newly added Draw tab on the top toolbar, you can choose a pen or a highlighter as well as the desired colour and line thickness. If you don't like what you get, you can always use the Eraser tool to scrub your drawings.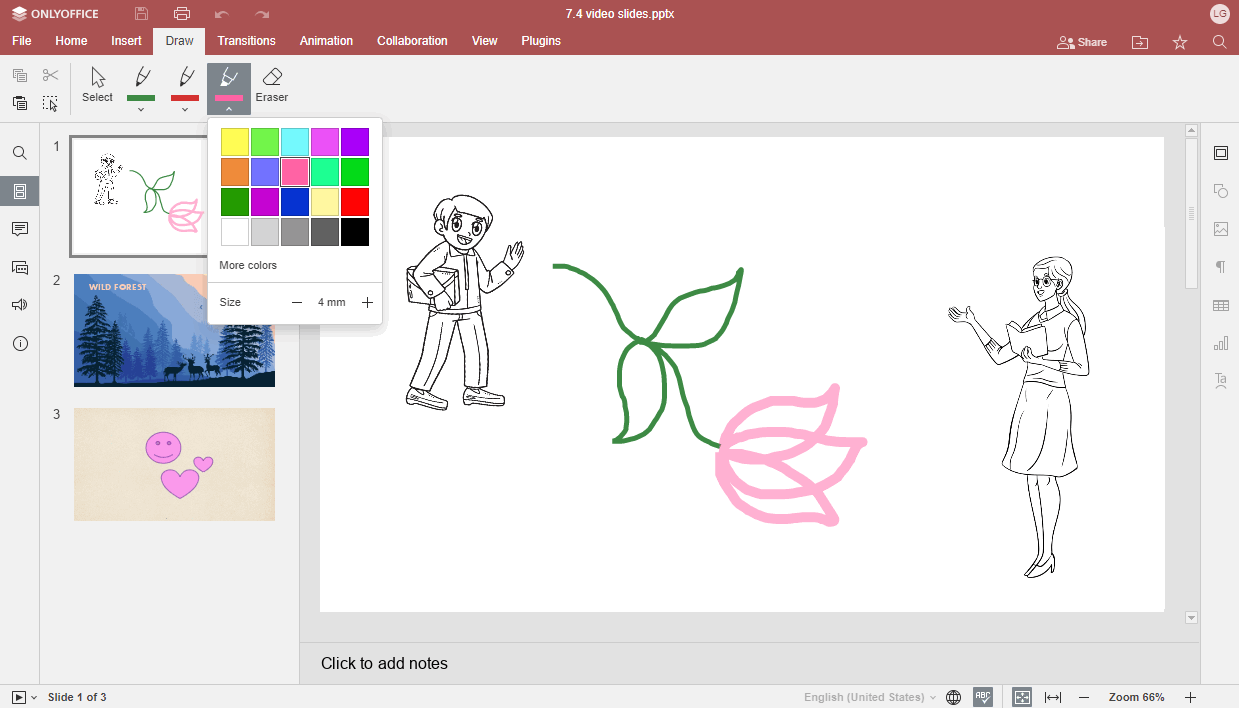 Insert radar charts
When you work with multivariate data, you can now build radar charts to show multiple data points and the variation between them. This feature can be used in text documents, spreadsheets, presentations and fallible forms.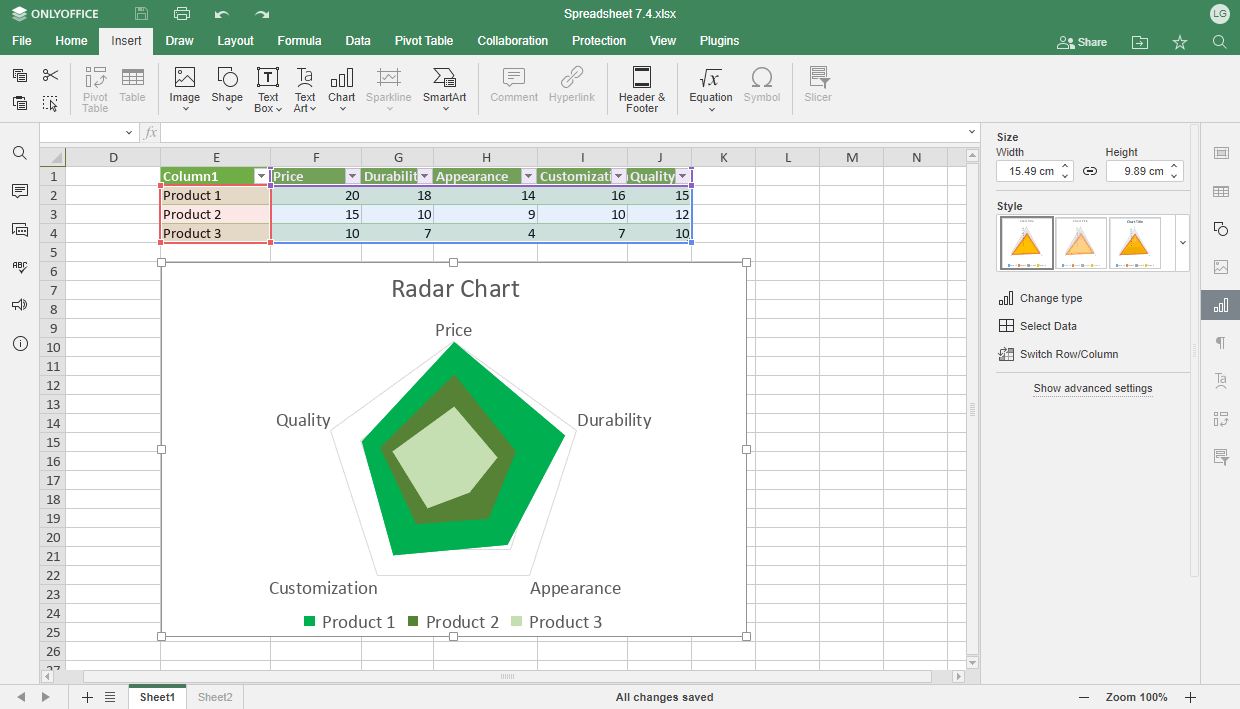 Combine documents with ease
The updated version of ONLYOFFICE Docs lets you combine documents. Using this feature, you can merge two versions of a document into one. When combining documents, your files are merged as they are, and all tracked changes will remain in the final version. That means that you will be able to accept or reject the changes if needed.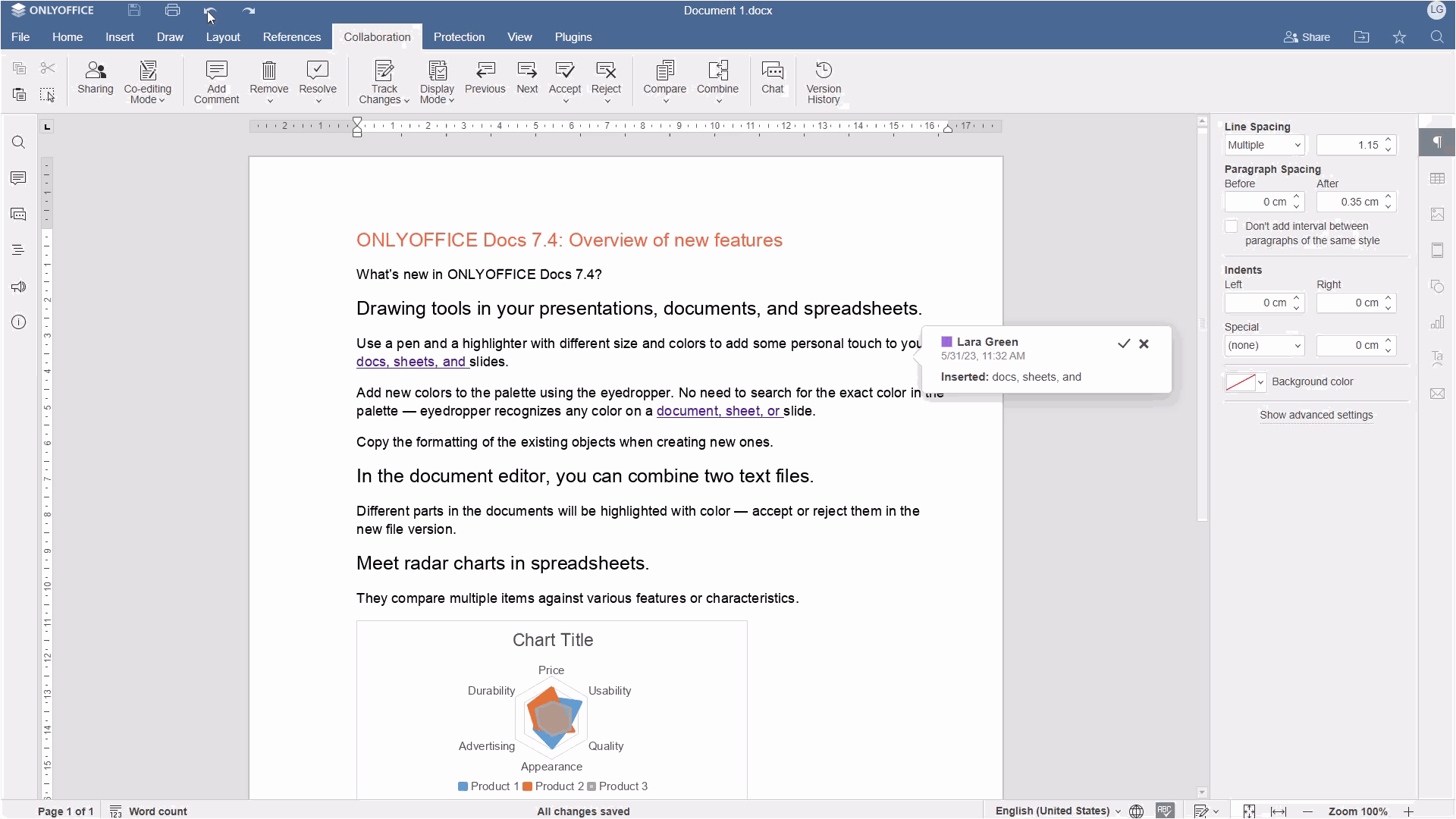 Save objects as images
From now on, you are allowed to save any visual object, such as charts, Text Art, text boxes, and Smart Art graphics, as PNG images with a few clicks.
What's more, visual objects now have new border opacity settings, and you can copy the formatting of the existing objects when creating new ones.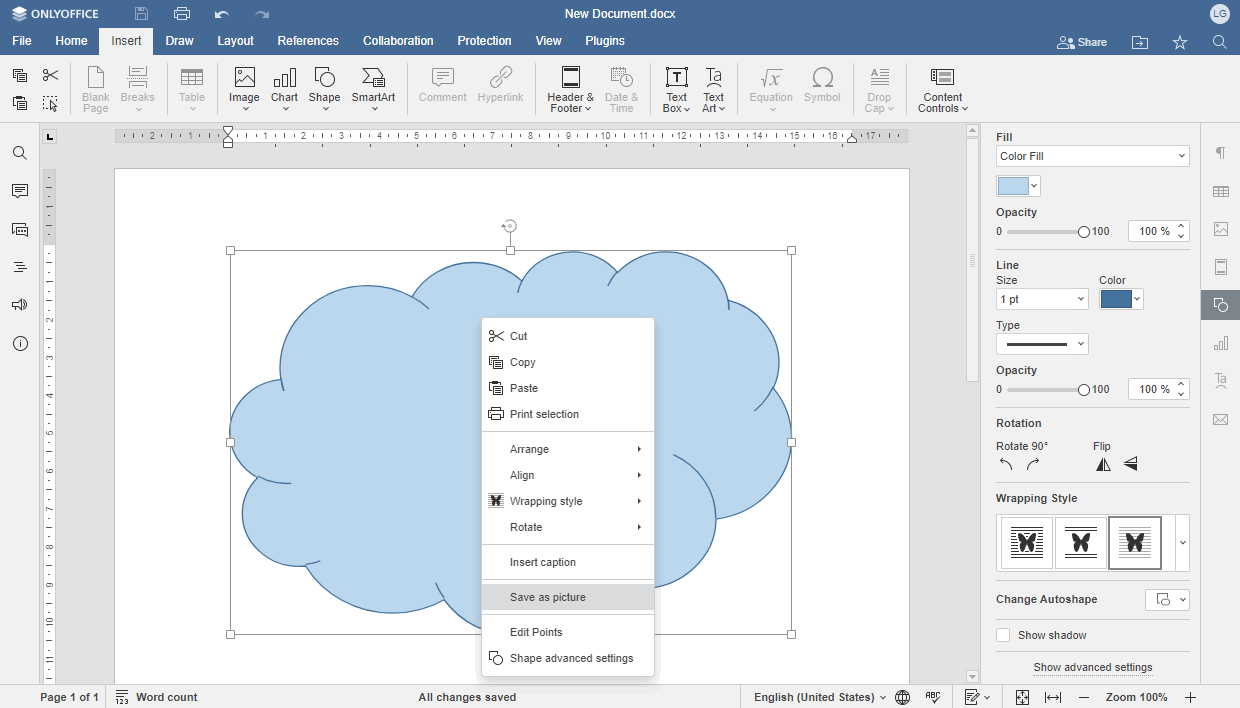 Save your documents as images
In ONLYOFFICE Docs v7.4, there is a new option which allows you to save your text documents and spreadsheets as PNG and JPG images.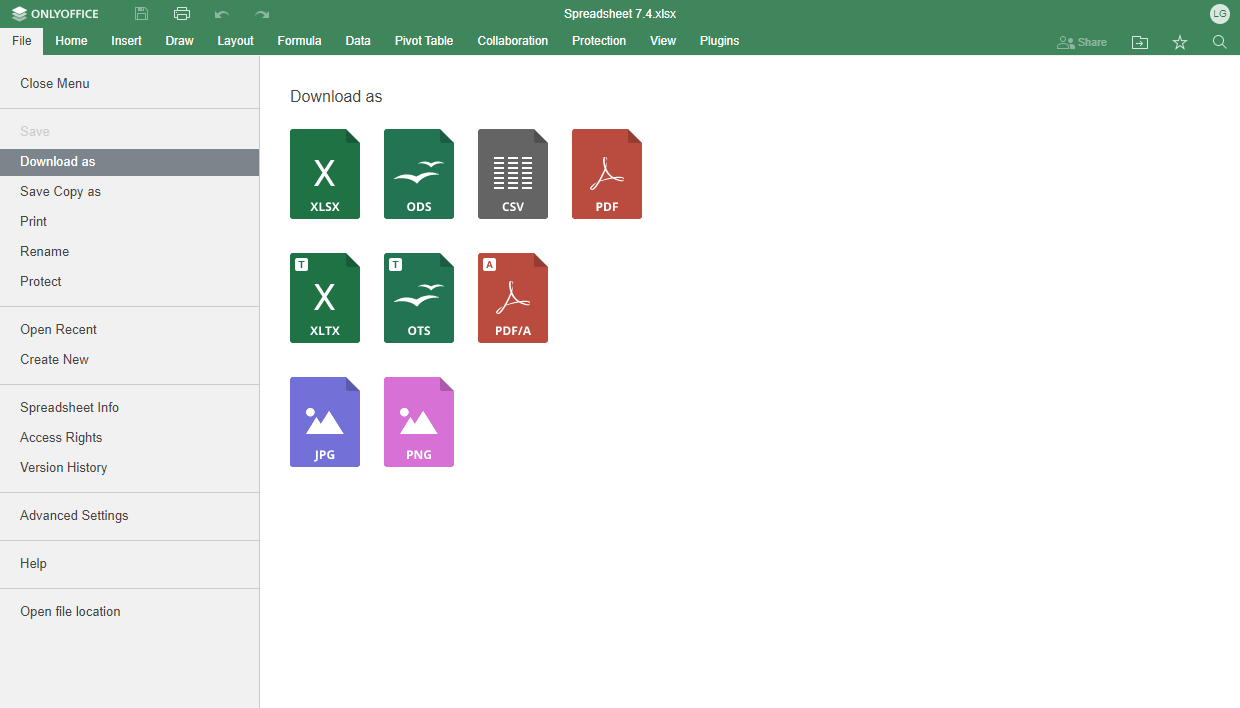 Work with new formats
The latest version of the ONLYOFFICE online editors is compatible with new formats. Now you can view and edit via conversion to OOXML the following file extensions — MHTML, SXC, ET, ETT, SXI, DPS, DPT, XML, SXW, STW, WPS and WPT.
Protect ranges and use new formulas in sheets
When you deal with protected data ranges, you can now grant editing permissions only to the desired users. Those who have access to the workbook can still view the content, but they are not allowed to edit the selected ranges.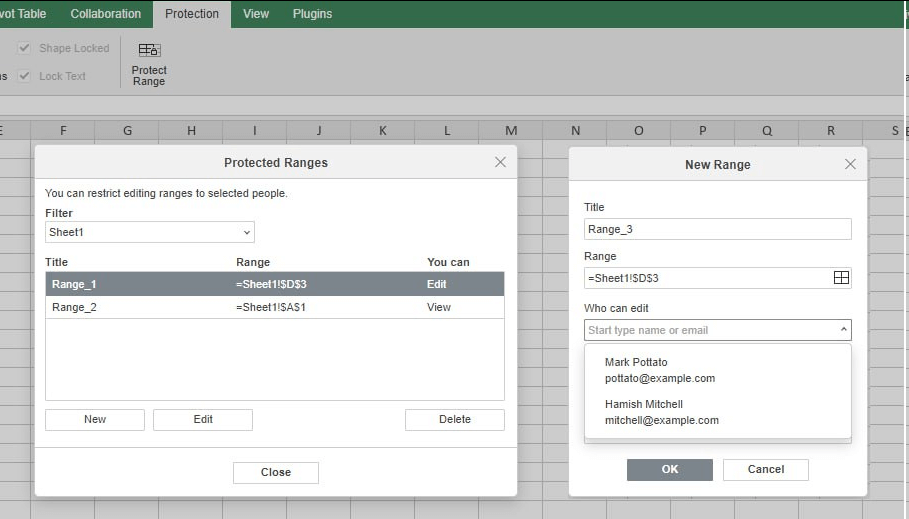 Another improvement in sheets is the ability to use new formulas to make precise calculations — SEQUENCE, XMATCH, EXPAND, FILTER, ARRAYTOTEXT, and SORT.
Pivot tables are more comfortable now to work with due to a new setting used to quickly present values in different ways, and new context menu options.
Work with plugins in a more comfortable way
The extended API makes it easier to work with plugins as they can now have as many windows as necessary and be dynamically embedded in the context menu of the ONLYOFFICE editors. This improvement gives you more freedom when creating a plugin for ONLYOFFICE.
What's more, version 7.4 comes with a server utility which allows administrators to install or uninstall plugins with a single command line, instead of copying folders, when manual installation is required.
Get your job done with the updated ChatGPT plugin
The ChatGPT plugin for ONLYOFFICE is now more powerful. From now on, you can use this tool for word analysis, image generation, text summarization, keyword generation and translation. All you need is to have access to the ChatGPT API.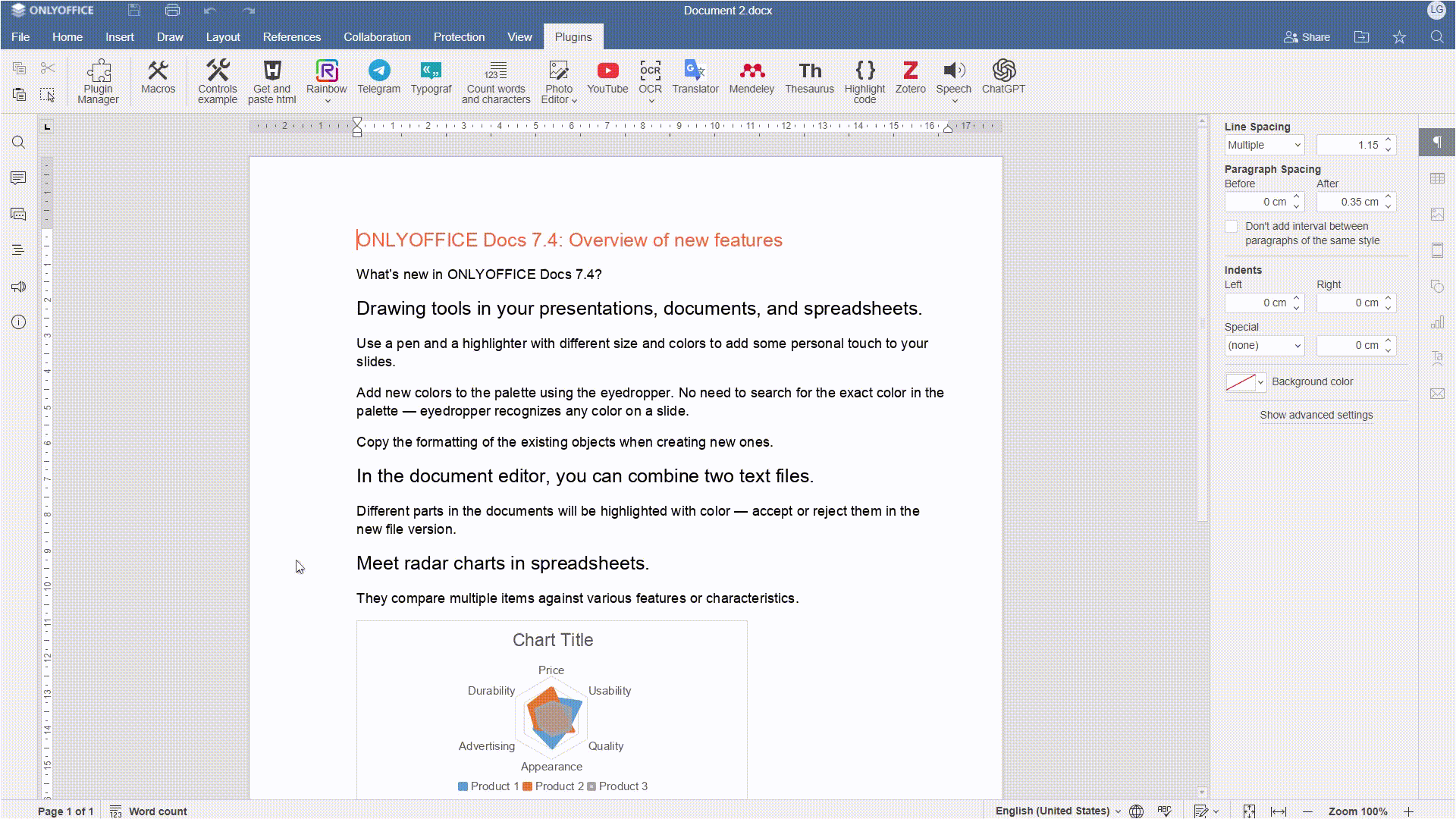 What else is new in ONLYOFFICE Docs v7.4
Apart from the features described above, ONLYOFFICE Docs v7.4 offers the following:
advanced column and list settings;
exceptions for the AutoCorrect feature;
new localization options — Sinhala interface, regional settings in Danish, formula tips in Armenian and guides from the Help section in Turkish; improvements in fillable forms;
improvements in fillable forms;
interface scaling options of 250%, 300%, 350%, 400%, 450%, and 500%.
ONLYOFFICE Desktop Editors v7.4
The desktop version of the ONLYOFFICE suite comes with the majority of the features available in the online version of the suite. However, there are some unique features that you won't find in the online editors. For example, the updated desktop app lets you access the ONLYOFFICE collection of free form templates right in the app interface. All you need to do is to open the app and click Templates. This way, you can choose what you like and open it in the ONLYOFFICE editor right away.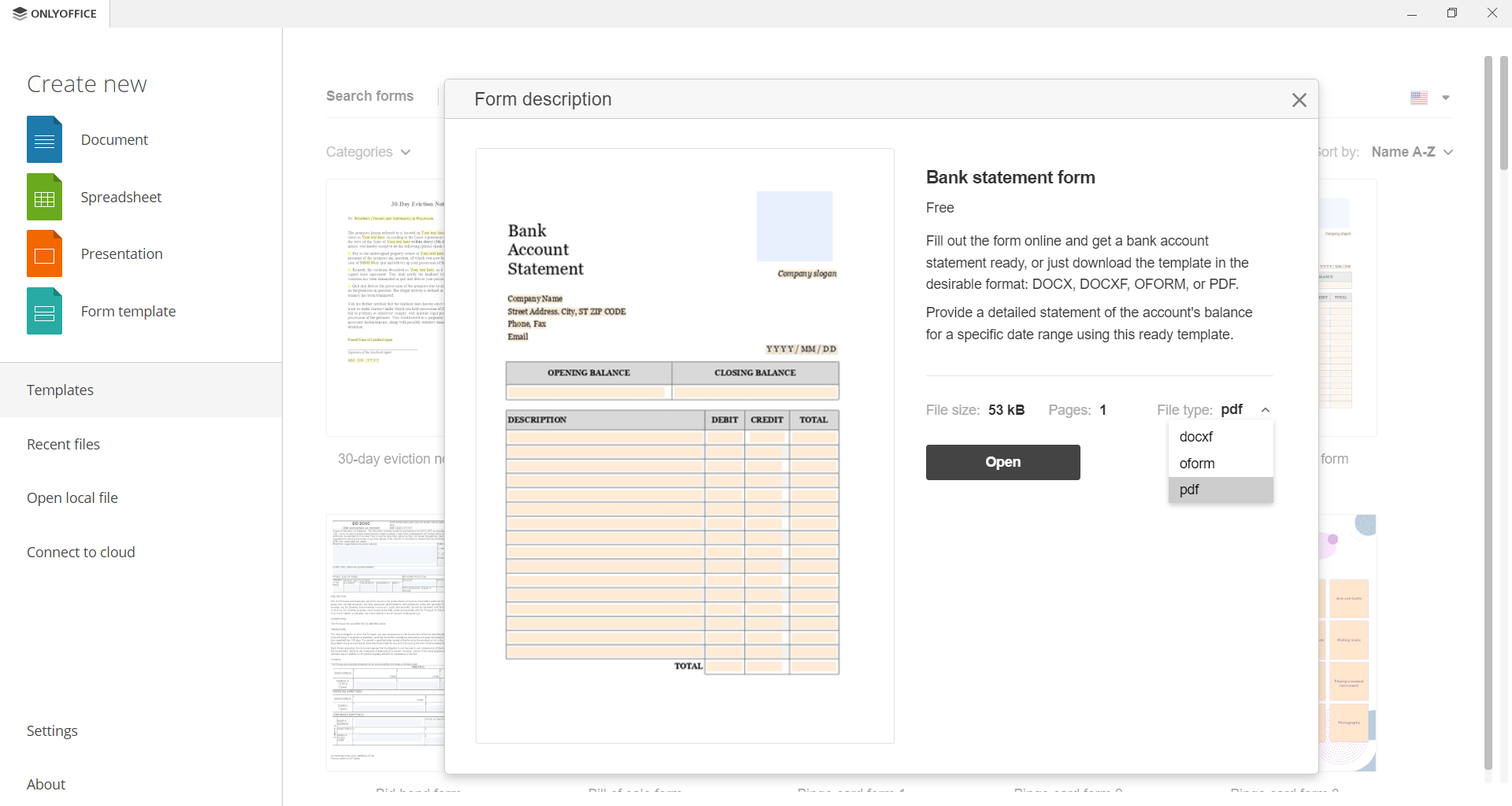 Also, the process of plugin installation in ONLYOFFICE Desktop Editors is now a piece of cake. The built-in plugin manager allows you to access all available plugins, and install or delete them with a few clicks.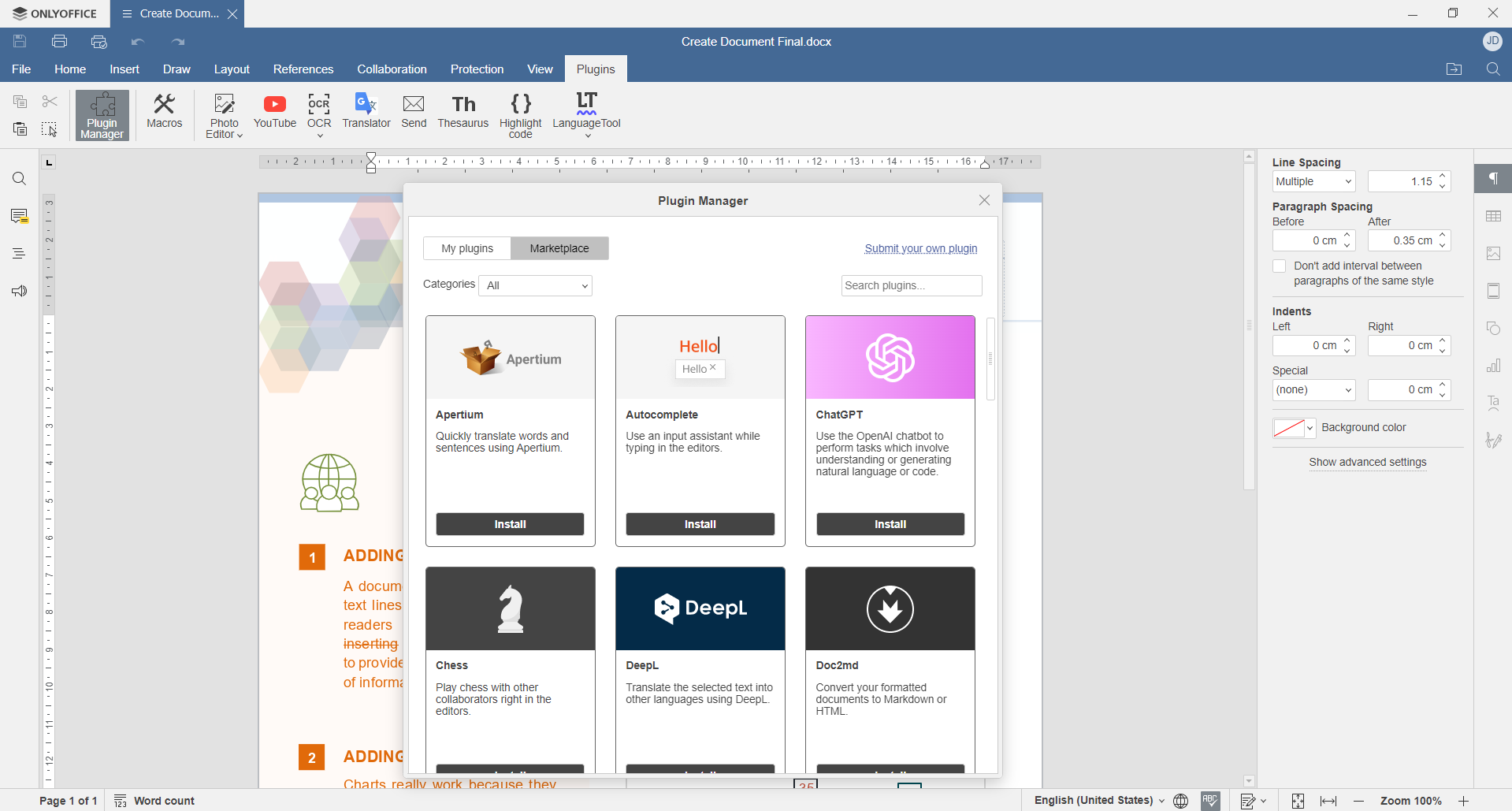 Finally, ONLYOFFICE Desktop Editors v7.4 offers new print settings, such as printing pages on both sides and the Print to PDF option in spreadsheets.
Download ONLYOFFICE Docs v7.4
If you want to download the latest version of the ONLYOFFICE online editors, you can visit the official website or check the official page on GitHub.