ntopng is a web-based network traffic monitoring application.
It's a passive network monitoring tool focused on flows and statistics that can be obtained from the traffic captured by the server.
There is an optional web GUI.
ntopng comes in four versions, Community, Professional, Enterprise M, Enterprise L. The Community version is free to use and open source.
Features include:
Sort network traffic according to many criteria including IP address, port, L7 protocol, throughput, Autonomous Systems (ASs).
Show realtime network traffic and active hosts.
Produce long-term reports for several network metrics including throughput and application protocols.
Top talkers (senders/receivers), top ASs, top L7 applications.
Monitor and report live throughput, network and application latencies, Round Trip Time (RTT), TCP statistics (retransmissions, out of order packets, packet lost), and bytes and packets transmitted.
Store on disk persistent traffic statistics to allow future explorations and post-mortem analyses
Geolocate and overlay hosts in a geographical map.
Discover application protocols (Facebook, YouTube, BitTorrent, etc) by leveraging on nDPI, ntop Deep Packet Inspection (DPI) technology.
Characterize HTTP traffic by leveraging on characterization services provided by Google and HTTP Blacklist.
Analyse IP traffic and sort it according to the source/destination.
Report IP protocol usage sorted by protocol type.
Produce HTML5/AJAX network traffic statistics.
Full support for IPv4 and IPv6.
Full Layer-2 support (including ARP statistics).
GTP/GRE detunnelling.
Support for MySQL, ElasticSearch and LogStash export of monitored data.
Interactive historical exploration of monitored data exported to MySQL.
Alerts engine to capture anomalous and suspicious hosts.
SNMP v1/v2c support and continuous monitoring of SNMP devices.
Identity Management, including correlation of VPN users to traffic.
Website: www.ntop.org/products/traffic-analysis/ntop
Support: User's Guide, GitHub Code Repository
Developer: Luca Deri
License: GNU General Public License v3.0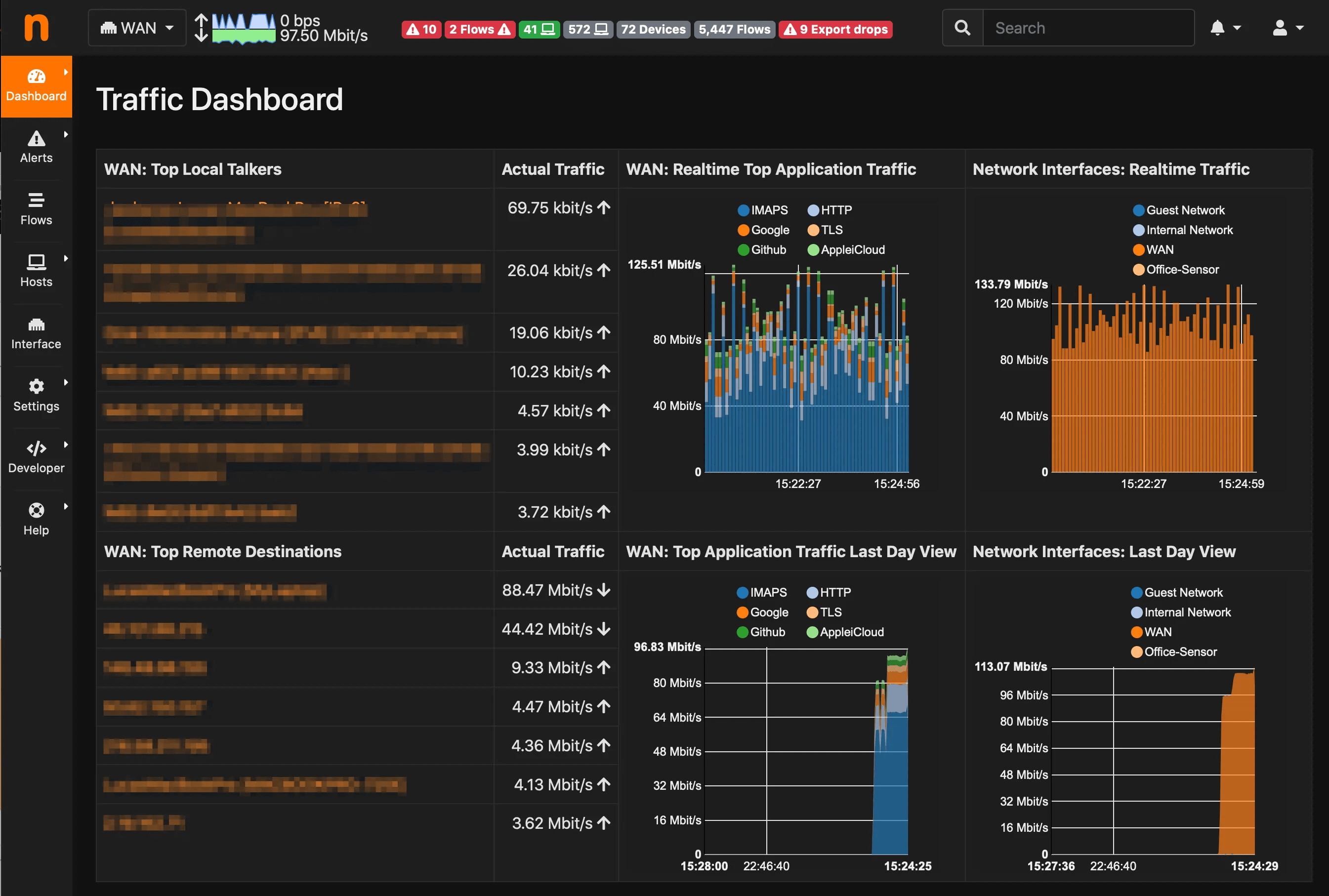 ntopng is written in Lua and JavaScript. Learn Lua with our recommended free books and free tutorials. Learn JavaScript with our recommended free books and free tutorials.
Return to Console Based Network 'top' Tools Home Page
---

Click the button to make a donation via flattr. Donations help us to maintain and improve the site. You can also donate via PayPal.


---
Read our complete collection of recommended free and open source software. The collection covers all categories of software.

The software collection forms part of our series of informative articles for Linux enthusiasts. There's tons of in-depth reviews, alternatives to Google, fun things to try, hardware, free programming books and tutorials, and much more.