In Operation
Here's an image of Moosync in action. The software lets us play our locally stored music collection with a wide range of audio formats supported including FLAC.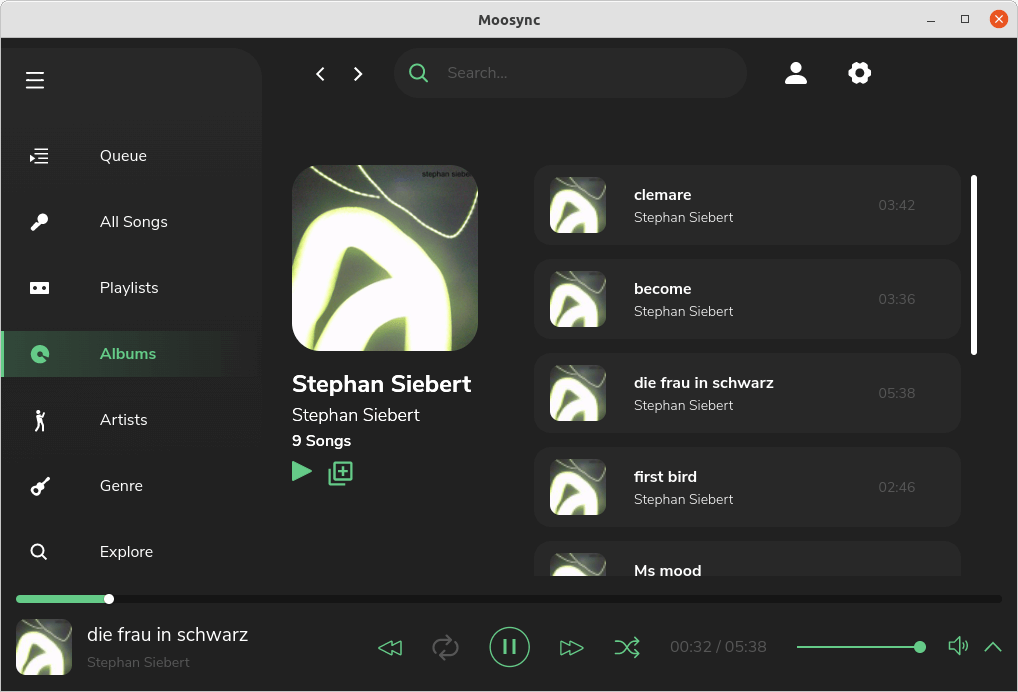 Our initial impressions were really heightened by the software's aesthetics. The interface is well designed and intuitive. There has been a lot of thought gone into the design, together with attractive and well placed icons. But you must never judge a book by its cover, and this also applies to software.
You can define the directories where your music is stored. Bizarrely when scanning these directories, the software showed progress to 14 decimal points with version 2.0.0 but this problem has disappeared with version 2.1.0.
The program scrapes artwork from a variety of sources including MusicBrainz, TheAudioDB, and FanArtTV.
Features include:
Play songs from YouTube and Spotify. For Spotify, you'll need to generate your own API key.
Good integration with Spotify and YouTube playlists.
Support for LastFm.
Scans local playlists.
Customizable theme engines with the ability to create your own theme.
GPU hardware acceleration.
We always consider a music player must have gapless playback. Gapless playback is the uninterrupted playback of consecutive audio tracks, such that relative time distances in the original audio source are preserved over track boundaries on playback. It's essential if you listen to classical, electronic music, concept albums, and progressive rock. There's a few Linux music players that don't offer gapless playback.
Sadly Moosync falls into the minority camp bereft of gapless playback. That's a showstopper in our book.
Next page: Page 3 – Memory Usage
Pages in this article:
Page 1 – Introduction / Installation
Page 2 – In Operation
Page 3 – Memory Usage
Page 4 – Summary