KTimeTracker is a todo management and time tracking application.
KTimeTracker tracks time spent on various tasks. It is useful for tracking hours to be billed to different clients or just to find out what percentage of your day is spent on a specific activity.
This time history can be exported to a comma-delimited text file for import into other billing and/or project management tools.
KTimetracker detects when your keyboard and mouse are idle and can associate different tasks with different desktops, two tools that can help keep the timer running on the correct task.
Features include:
Unlimited tasks and task depth. Time may be logged to any task, and more than one task can be active at any given time.
Edit your task's history and to put a comment for every event that you've stopped.
Import and export tasks to minimize your work.
Simple time tracking.

KTimetracker

 maintains two timers for each task: one for the session time and one for the total time. In the default configuration, 

KTimetracker

displays two columns for each timer, resulting in a total of four columns for each task.
Can be configured to detect when the mouse and keyboard become idle.
Uses the industry standard iCalendar format for its data. 

KTimetracker

can read and write the to-do lists created by

KOrganizer

and Apple's iCal.
D-Bus support.
Export both totals and history to a comma-delimited file format.
Export history to CSV.
Website: userbase.kde.org/KTimeTracker
Support: GitHub Code Repository
Developer: KTimeTracker developers
License: GNU General Public License Version 2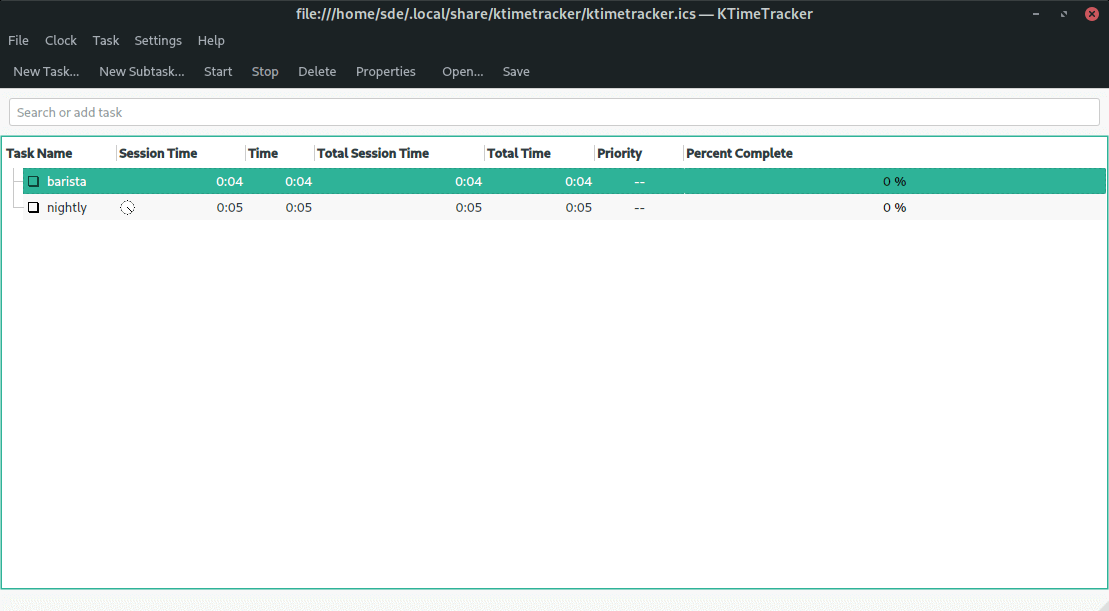 KTimeTracker is written in C++. Learn C++ with our recommended free books and free tutorials.
Return to Time Tracking Home Page
---
Popular series
New to Linux? Read our Linux for Starters series.
The largest compilation of the best free and open source software in the universe. Supplied with our legendary ratings charts.
Hundreds of in-depth reviews offering our unbiased and expert opinion on software.
Alternatives to Google's Products and Services examines your options to migrate from the Google ecosystem with open source Linux alternatives.
Alternatives to Microsoft's Products and Services recommends open source Linux software.
Alternatives to Adobe Cloud is a new series looking at free and open source alternatives to products available from Adobe Cloud's subscription service.
Essential Linux system tools looks at small, indispensable utilities, useful for system administrators as well as regular users.
Linux utilities to maximise your productivity. Small, indispensable tools, useful for anyone running a Linux machine.
Home computers became commonplace in the 1980s. Emulate home computers including the Commodore 64, Amiga, Atari ST, ZX81, Amstrad CPC, and ZX Spectrum.
Now and Then examines how promising open source software fared over the years.
Linux at Home looks at a range of home activities where Linux can play its part, making the most of our time at home, keeping active and engaged.
Linux Candy opens up to the lighter side of Linux. Have some fun!
Best Free Android Apps. There's a strict eligibility criteria for inclusion in this series
These best free books accelerate your learning of every programming language
These free tutorials offer the perfect tonic to the free programming books series
Stars and Stripes is an occasional series looking at the impact of Linux in the USA