eboard is a chess interface based on the GTK+ GUI toolkit.
It provides a chess board interface to ICS (Internet Chess Servers) like FICS and to chess engines like GNU Chess, Sjeng and Crafty.
The primary purpose of eboard is serving as interface to FICS, but also allows you to play against a chess program, analyze saved games, and play with other eboard user on the Internet.
eboard is free and open source software.
Features include:
Attractive, configurable interface.
Multiple board views.
Resizeable board (without restarting).
Scripting.
FICS:

Scroll-locking: ICS output only scrolls when you are reading the most recent lines of output, allows you to read help files, tourney tables and other extense output more easily.
Text input separated from ICS output, you can always see what you are typing.
Input history similar to bash (up/down arrows move through the input history).
You can have as many console windows as you wish, with regular expression matching to filter what is shown in each one.
ICS output coloring makes ICS output easier to read.
Highly configurable behavior: you can give each ICS channel its own console (like in IRC clients) or see all channels in one console.
Seek graph: shows ICS seek ads in a user-friendly clickable graph.
Bughouse support: shows both your game and your partner's, and provides quick buttons for usual partner talk like "++Q", "-Diag", "Sit".
Works with timeseal.
Website: www.bergo.eng.br/eboard
Support: Documentation, GitHub Code Repository
Developer: Felipe Bergo
License: GNU General Public License; either version 3 of the License, or (at your option) any later version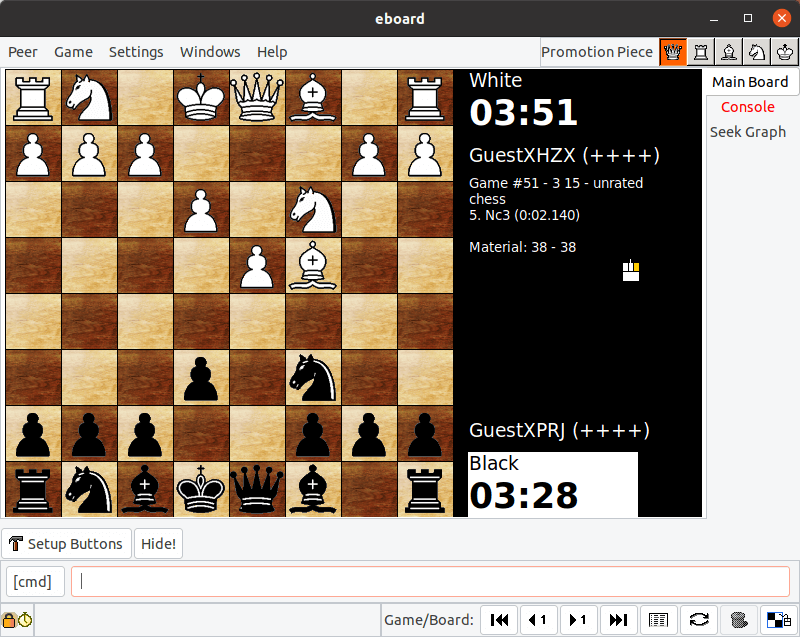 eboard is written in C++. Learn C++ with our recommended free books and free tutorials.
Return to Chess Home Page | FICS Chess Clients Home Page
---