We've defined an eligibility criteria to guide us when selecting apps for this series. See the bottom of this article for details.
A widespread belief is that astronomy is an activity which cannot be enjoyed without paraphernalia like telescopes and other expensive equipment. However, astronomy is for everyone, and even with just the naked eye, it can become a fascinating and rewarding hobby for life.
Astronomy is a learning hobby. Its joys come from intellectual discovery and knowledge of the cryptic night sky. But you have to make these discoveries, and gain this knowledge, by yourself. In other words, you need to become self-taught.
With the aid of open source software, budding astronomers can learn how to 'read' the stars, to know which constellations lie overhead, their trajectory throughout the seasons, and the legends ascribed to them.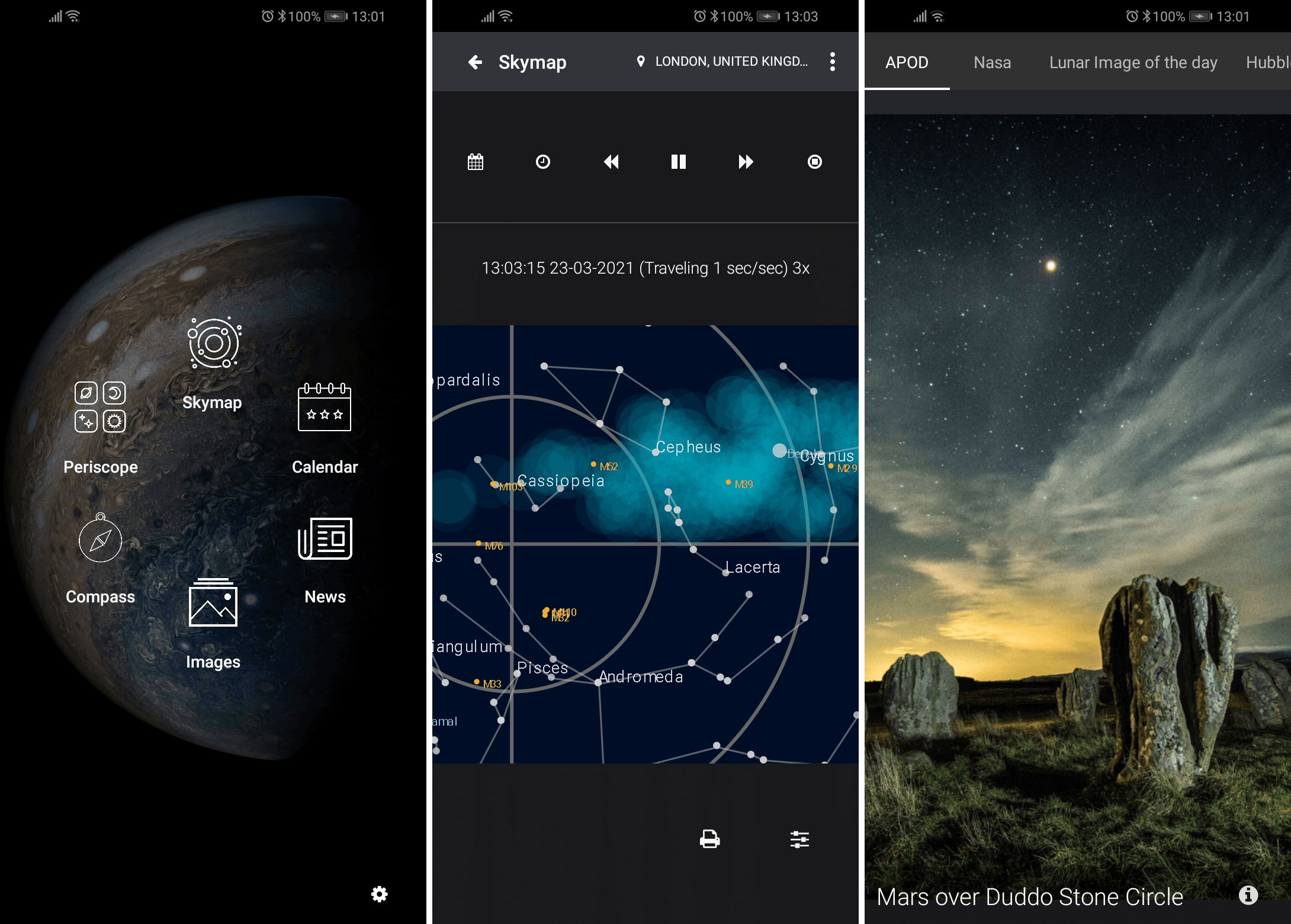 SkyWiki offers a simple kit to help you stargaze with your Android phone. It offers the following:
Skymap lets you visualize the movement of all the major planets, constellations, brightest stars and messier objects. It's GPS assisted, automatically calibrates based on your device location, and shows a projected night sky. The app's cross-hairs show where your phone is pointed. That's a time saver when stargazing.
Calendar offers information on lunar phases, eclipses, equinoxes/solstices, moon apogee/perigee, moon/planet conjunctions, planetary events, and meteor showers.
Periscope view provides a view of how the sun and moon rise and set, together with lots of information including sunrise and sunset times, altitude and heading info, and a basic compilation of facts about the planets in our solar system and the sun and moon.
Astronomy news supplies information from space websites offering easy access to things like watching NASA live previews
Astronomy photos retrieves images from APOD, Nasda, Lunar Image of the day, and Hubble Picture of the Week.
Compass lets you orient yourself in the desired direction. Some Android devices won't offer this functionality.
SkyWiki is a genuinely useful app for any budding astronomy. It's great as both a science app and an educational app.
There's lots of neat touches that make this app stand out from its peers (there's actually a pretty good range of free astronomy apps available for Android). We particularly like the app's night mode which alters text and user interface elements to red to improve your night vision.
---
Eligibility criteria
For an Android app to be awarded our love, it must satisfy the following criteria:
High quality with a good set of features, stable in operation and mature software;
No charge to use the app;
No intrusive ads in the program;
Open source and proprietary software can be included;
Apps where additional functionality is available for a payment can be included where appropriate.
Linux
There are many more featured astronomy programs available for Linux. We recommend the best programs in this roundup.