Akira is a native Linux design application built in Vala and GTK.
Akira focuses on offering a modern and fast approach to UI and UX Design, mainly targeting web designers and graphic designers. The main goal is to offer a valid and professional solution for designers who want to use Linux as their main OS.
Akira is in an early stage of development and is not currently ready for production use.
The software is free and open source software.
Features include:
Fully native – no JavaScript is used to handle core functionalities of the application. Core functionality is written in Vala.
Adaptable interface – light mode, dark mode, symbolic and non-symbolic icons, with labels or no labels.

Vector SVG based Canvas

.
Shapes that are handled like a standalone path with 2 levels of editing. The first level (shape edit), activated on select, will allow standard transformation options like rotate, resize, flip, etc. The second level (path edit) will allow to handle the shape like a standalone path, with the ability to move, add, and remove vertices, use bezier curves, and break or close paths.
Zoom.
Presentation mode
Pixel grid.
Used for creating mock-ups, visualizations and vector graphics.
Website: github.com/akiraux/Akira
Support:
Developer: Alessandro "Alecaddd" Castellani
License: GNU General Public License v3.0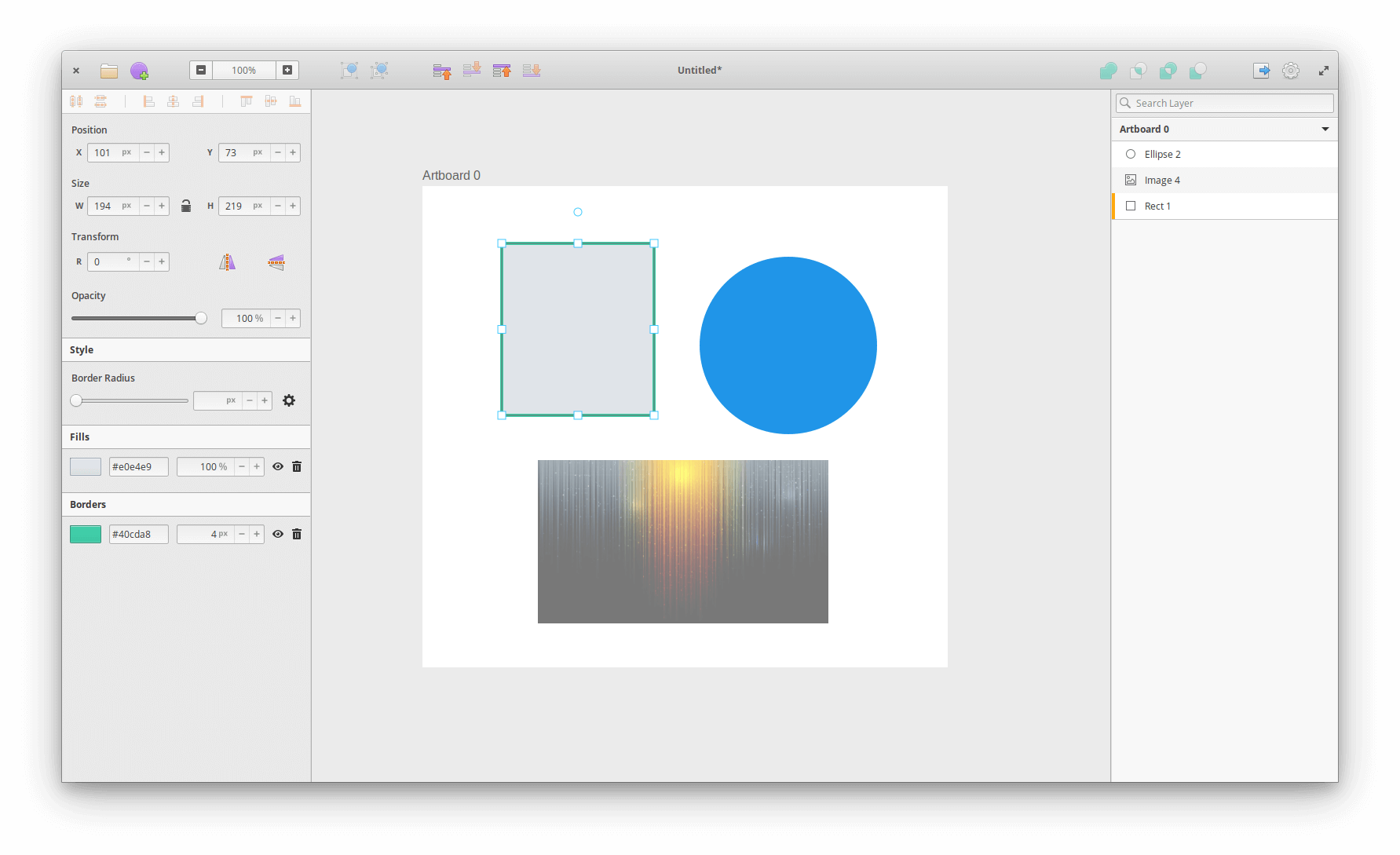 Akira is written in Vala. Learn Vala with our recommended free books and free tutorials.
---
Popular series
New to Linux? Read our Linux for Starters series. We start right at the basics and teach you everything you need to know to get started with Linux.
The largest compilation of the best free and open source software in the universe. Each article is supplied with a legendary ratings chart helping you make informed decisions.
Hundreds of in-depth reviews offering our unbiased and expert opinion on software. We offer helpful and impartial information.
Alternatives to Google's Products and Services examines your options to migrate from the Google ecosystem with open source Linux alternatives.
Alternatives to Microsoft's Products and Services recommends open source Linux software.
Alternatives to Adobe Cloud looks at free and open source alternatives to products available from Adobe Cloud's subscription service.
Alternatives to Apple recommends free and open source alternatives to Apple's proprietary world.
Alternatives to Corel surveys alternatives to Corel's range of graphics processing products and other software applications.
Getting Started with Docker helps you master Docker, a set of platform as a service products that delivers software in packages called containers.
Essential Linux system tools focuses on small, indispensable utilities, useful for system administrators as well as regular users.
Linux utilities to maximise your productivity. Small, indispensable tools, useful for anyone running a Linux machine.
Home computers became commonplace in the 1980s. Emulate home computers including the Commodore 64, Amiga, Atari ST, ZX81, Amstrad CPC, and ZX Spectrum.
Now and Then examines how promising open source software fared over the years. It can be a bumpy ride.
Linux at Home looks at a range of home activities where Linux can play its part, making the most of our time at home, keeping active and engaged.
Linux Candy reveals the lighter side of Linux. Have some fun and escape from the daily drudgery.
Best Free Android Apps. We showcase free Android apps that are definitely worth downloading. There's a strict eligibility criteria for inclusion in this series.
These best free books accelerate your learning of every programming language. Learn a new language today!
These free tutorials offer the perfect tonic to our free programming books series.
Stars and Stripes is an occasional series looking at the impact of Linux in the USA.