WikidPad is an open source, Python-based wiki-like notebook for storing thoughts, ideas, todo lists, contacts, and other notes with wiki-like linking between pages.
The WikidPad system uses a database to tie together individual text documents that the user creates into a wiki-like notepad. Wiki-links can be created by writing a word in CamelCase or enclosing a word or words with single brackets, allowing easy ways to create a mini-wiki on a certain subject easily. Single wiki pages and complete wikis can be exported to HTML.
Features include:
WikiWord auto-completion.
WikiWord navigation.
On the fly WikiWord linking.
Easy WikiWord navigation.
Tree/Outline view.
Dynamic views – performs attribute based searches and shows nodes that match those searches.
To-do lists.
Incremental search.
Search and Replace.
Wikis can be exported to HTML.
Extensible with Python scripting.
Can be used as portable software on a USB stick.
Store notes in plain text or a SQLite database.
Autosave – saves around 5-15 seconds of idle time, on navigation to a new wiki word, and on shutdown.
Keybindings – many of which can be changed.
Spell checking.
Plugins:

Graphviz – graph visualization software.
MimeTex – Latex formula renderer.
Ploticus – Charting and graphing software.
Website: wikidpad.sourceforge.net
Support: FAQ
Developer: Michael Butscher
License: Three-clause BSD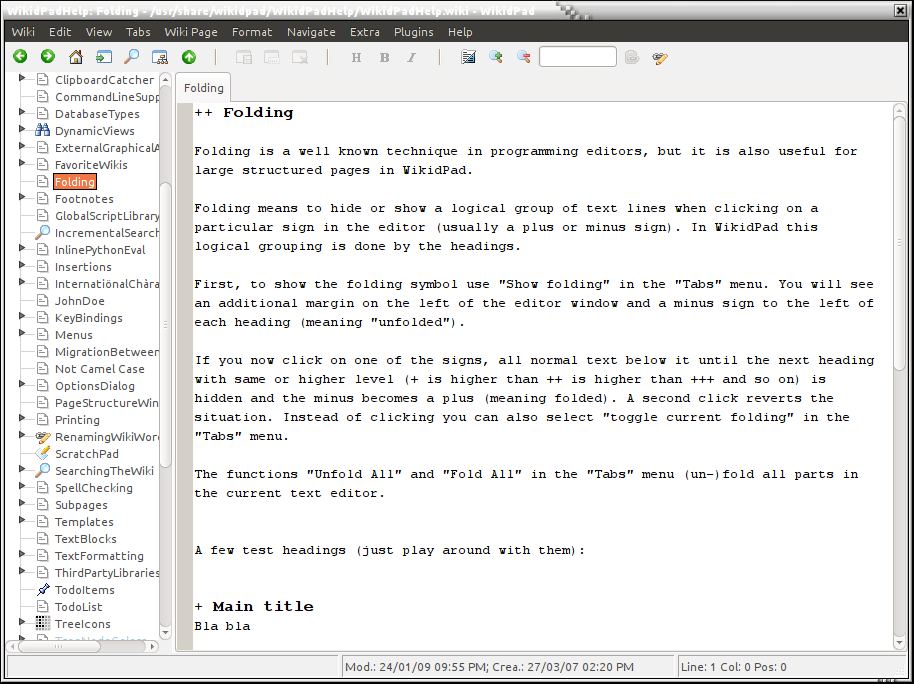 WikidPad is written in Python. Learn Python with our recommended free books and free tutorials.
Return to OneNote Alternatives Home Page | Return to Notes Home Page | Return to Tools for Novelists Home Page
Read our complete collection of recommended free and open source software. The collection covers all categories of software.

The software collection forms part of our series of informative articles for Linux enthusiasts. There's tons of in-depth reviews, alternatives to Google, fun things to try, hardware, free programming books and tutorials, and much more.