Kdenlive is a non linear video editor for the KDE desktop environment. The software provides project management and editing tools while relying on a separate rendering program (currently Piave) to perform the editing operations.
Kdenlive is built on Qt and the KDE Frameworks libraries. Most of the video processing is done by the MLT Framework, which relies on many other open source projects like FFmpeg, frei0r, movit, ladspa, sox, etc.
Kdenlive supports all of the formats supported by FFmpeg (such as MOV, AVI, WMV, MPEG, XviD, and FLV), and also supports 4:3 and 16:9 aspect ratios for both PAL, NTSC and various HD standards, including HDV, and experimental support for AVCHD.
Video can also be exported to DV devices, or written to a DVD with chapters and a simple menu.
Features include:
Multi track editing.
Video Preview.
Accepts many audio / video / image formats: mpeg, avi, dv, vob, wav, ogg, mp3, gif (non animated), jpg, png, svg, …
Export to most formats: mpeg, dv, vob, realvideo, flash, theora, wav, mp3, xvid, quicktime, …
Creative effects.
Titling features.
Audio and video thumbnails.
Basic audio / video effects: blur, sepia, volume, brightness, …
Basic transitions: crossfade, push, picture in picture.
Real time preview of all effects.
Add markers and guides to easily manage your project.
Copy & paste of clips, effects and transitions.
Easy firewire dv capture.
Customizable layouts.
Desktop integration (add files to your project with drag & drop).
Multi track view (preview monitor is split in 4 with one track in each part).
Rotoscoping. This is an advanced technique for tracing over live action to create life like animation.
Perspective image placement.
Widget layouts. This allows you to quickly switch between different layouts for different workflows.
Light Graffiti.
Audio Spectrum and Spectrogram.
Stop Motion Capture.
Tooltips with quick explanations for filters/effects.
Website: kdenlive.org
Support: Wiki
Developer: Jason Wood, Gilles Caulier, Marco Gittler, Jean-Baptiste Mardelle
License: GNU General Public License v2.0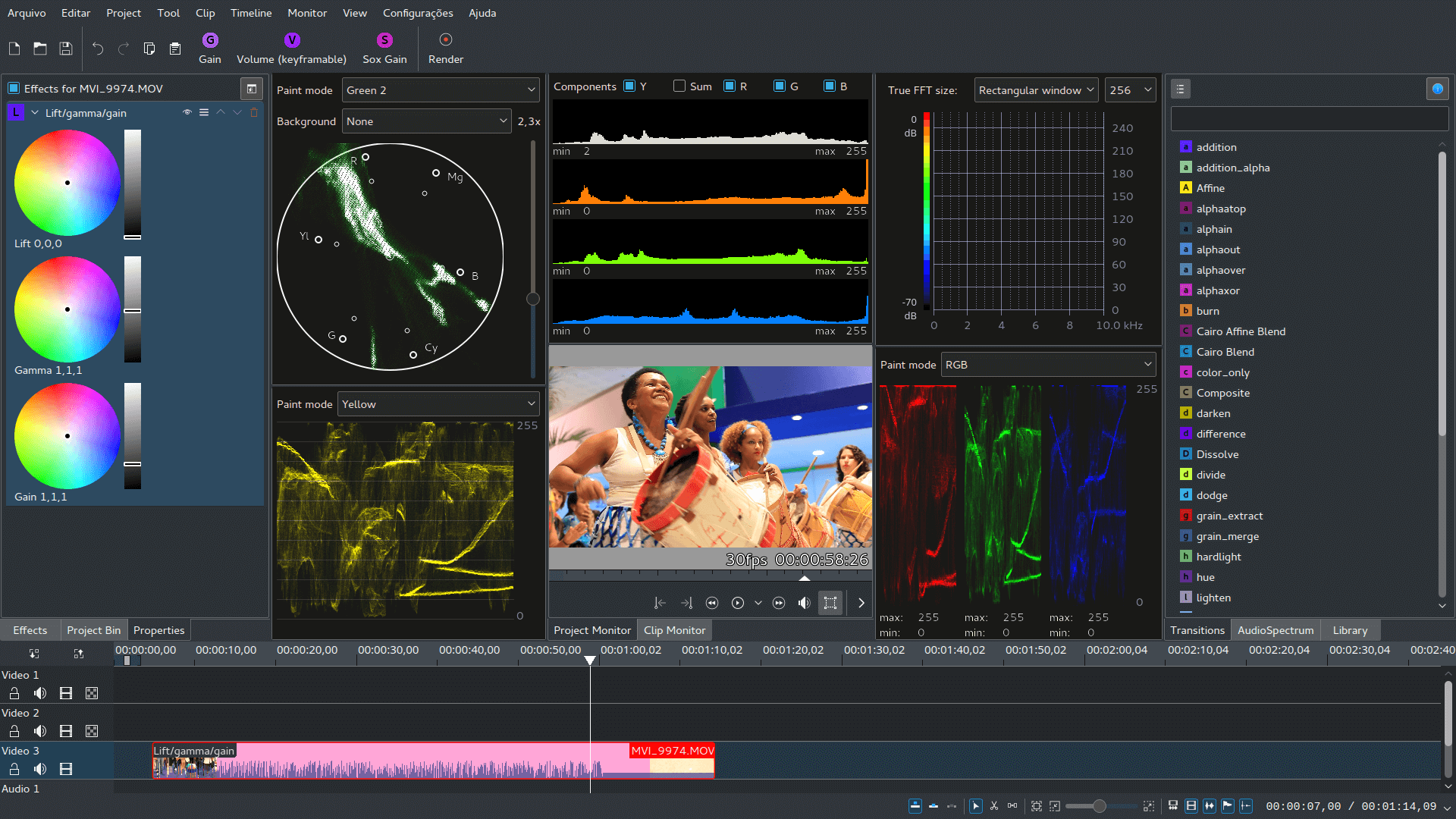 Kdenlive is written in C++. Learn C++ with our recommended free books and free tutorials.
Return to Video | Return to Video Editors
---
Popular series
The largest compilation of the best free and open source software in the universe. Each article is supplied with a legendary ratings chart helping you to make informed decisions.
Hundreds of in-depth reviews offering our unbiased and expert opinion on software. We offer helpful and impartial information.
Replace proprietary software with open source alternatives: Google, Microsoft, Apple, Adobe, IBM, Autodesk, Oracle, Atlassian, Corel, Cisco, Intuit, and SAS.
Awesome Free Linux Games Tools showcases a series of tools that making gaming on Linux a more pleasurable experience. This is a new series.
Machine Learning explores practical applications of machine learning and deep learning from a Linux perspective. This is a new series.
New to Linux? Read our Linux for Starters series. We start right at the basics and teach you everything you need to know to get started with Linux.
Alternatives to popular CLI tools showcases essential tools that are modern replacements for core Linux utilities.
Essential Linux system tools focuses on small, indispensable utilities, useful for system administrators as well as regular users.
Linux utilities to maximise your productivity. Small, indispensable tools, useful for anyone running a Linux machine.
Surveys popular streaming services from a Linux perspective: Amazon Music Unlimited, Myuzi, Spotify, Deezer, Tidal.
Saving Money with Linux looks at how you can reduce your energy bills running Linux.
Home computers became commonplace in the 1980s. Emulate home computers including the Commodore 64, Amiga, Atari ST, ZX81, Amstrad CPC, and ZX Spectrum.
Now and Then examines how promising open source software fared over the years. It can be a bumpy ride.
Linux at Home looks at a range of home activities where Linux can play its part, making the most of our time at home, keeping active and engaged.
Linux Candy reveals the lighter side of Linux. Have some fun and escape from the daily drudgery.
Getting Started with Docker helps you master Docker, a set of platform as a service products that delivers software in packages called containers.
Best Free Android Apps. We showcase free Android apps that are definitely worth downloading. There's a strict eligibility criteria for inclusion in this series.
These best free books accelerate your learning of every programming language. Learn a new language today!
These free tutorials offer the perfect tonic to our free programming books series.
Linux Around The World showcases usergroups that are relevant to Linux enthusiasts. Great ways to meet up with fellow enthusiasts.
Stars and Stripes is an occasional series looking at the impact of Linux in the USA.