Inkscape is an Open Source vector graphics editor, with capabilities similar to Illustrator, Freehand, CorelDraw, and Xara X. The interface is designed to be comfortable and efficient for skilled users, while remaining conformant to GNOME standards so that users familiar with other GNOME applications can learn its interface rapidly. It uses the W3C standard Scalable Vector Graphics (SVG) file format, which is an open, industry-standard XML-based format for vector graphics developed by the W3C organisation. The popularity of this format is growing fast.
Supported SVG features include shapes, paths, text, markers, clones, alpha blending, transforms, gradients, patterns, and grouping. Inkscape also supports Creative Commons meta-data, node editing, layers, complex path operations, bitmap tracing, text-on-path, flowed text, direct XML editing, and more. It imports formats such as JPEG, PNG, TIFF, and others and exports PNG as well as multiple vector-based formats.
Inkscape natively supports opening only SVG and SVGZ (gzipped SVG) formats.
Inkscape can natively save as SVG, SVGZ, Postscript/EPS/EPSi, Adobe Illustrator (*.ai), LaTeX (*.tex), and POVRay (*.pov).
With the help of extensions, Inkscape can open/save as PDF, EPS, AI, Dia, Sketch and some others.
Inkscape can natively import most raster formats (JPG, PNG, GIF, etc.) as bitmap images, but it can only export PNG bitmaps.
Although Inkscape does not have all the features of the leading commercial vector editors, the latest version provides a large portion of basic vector graphics editing capabilities. People report successfully using Inkscape in a lot of very different projects (web graphics, technical diagrams, icons, creative art, logos, maps).
Translations available in Belarusian, Bulgarian, Catalan, Chinese (Simplified), Chinese (Traditional), Czech, Danish, Dutch, English, French, Galician, German, Greek, Hungarian, Irish Gaelic, Italian, Japanese, Korean, Lithuanian, Norwegian, Panjabi, Polish, Portuguese, Russian, Serbian, Slovak, Slovene, Spanish, Swedish, Thai, Turkish, Ukrainian, and Vietnamese.
Website: inkscape.org
Support: FAQ
Developer: Over 100 developers
License: GNU General Public License v2.0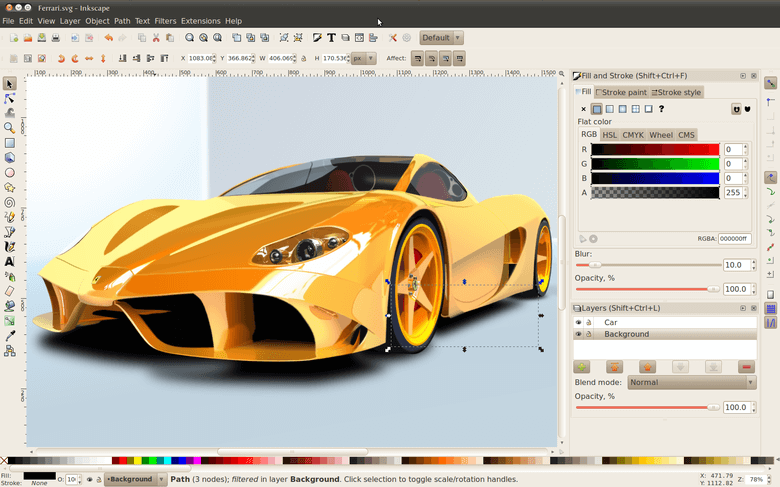 Inkscape is written in C++. Learn C++ with our recommended free books and free tutorials.
Return to Vector Graphics | Return to GUI Prototyping Tools
---
Popular series
The largest compilation of the best free and open source software in the universe. Each article is supplied with a legendary ratings chart helping you to make informed decisions.
Hundreds of in-depth reviews offering our unbiased and expert opinion on software. We offer helpful and impartial information.
Replace proprietary software with open source alternatives: Google, Microsoft, Apple, Adobe, IBM, Autodesk, Oracle, Atlassian, Corel, Cisco, Intuit, and SAS.
Awesome Free Linux Games Tools showcases a series of tools that making gaming on Linux a more pleasurable experience. This is a new series.
Machine Learning explores practical applications of machine learning and deep learning from a Linux perspective. This is a new series.
New to Linux? Read our Linux for Starters series. We start right at the basics and teach you everything you need to know to get started with Linux.
Alternatives to popular CLI tools showcases essential tools that are modern replacements for core Linux utilities.
Essential Linux system tools focuses on small, indispensable utilities, useful for system administrators as well as regular users.
Linux utilities to maximise your productivity. Small, indispensable tools, useful for anyone running a Linux machine.
Surveys popular streaming services from a Linux perspective: Amazon Music Unlimited, Myuzi, Spotify, Deezer, Tidal.
Saving Money with Linux looks at how you can reduce your energy bills running Linux.
Home computers became commonplace in the 1980s. Emulate home computers including the Commodore 64, Amiga, Atari ST, ZX81, Amstrad CPC, and ZX Spectrum.
Now and Then examines how promising open source software fared over the years. It can be a bumpy ride.
Linux at Home looks at a range of home activities where Linux can play its part, making the most of our time at home, keeping active and engaged.
Linux Candy reveals the lighter side of Linux. Have some fun and escape from the daily drudgery.
Getting Started with Docker helps you master Docker, a set of platform as a service products that delivers software in packages called containers.
Best Free Android Apps. We showcase free Android apps that are definitely worth downloading. There's a strict eligibility criteria for inclusion in this series.
These best free books accelerate your learning of every programming language. Learn a new language today!
These free tutorials offer the perfect tonic to our free programming books series.
Linux Around The World showcases usergroups that are relevant to Linux enthusiasts. Great ways to meet up with fellow enthusiasts.
Stars and Stripes is an occasional series looking at the impact of Linux in the USA.