Last Updated on April 28, 2023
In Operation
Here's an image of theBeat in action showing the music library in the album view. There's support for playlists, shuffle play, and more. The developer also cites that the program can play and burn CDs.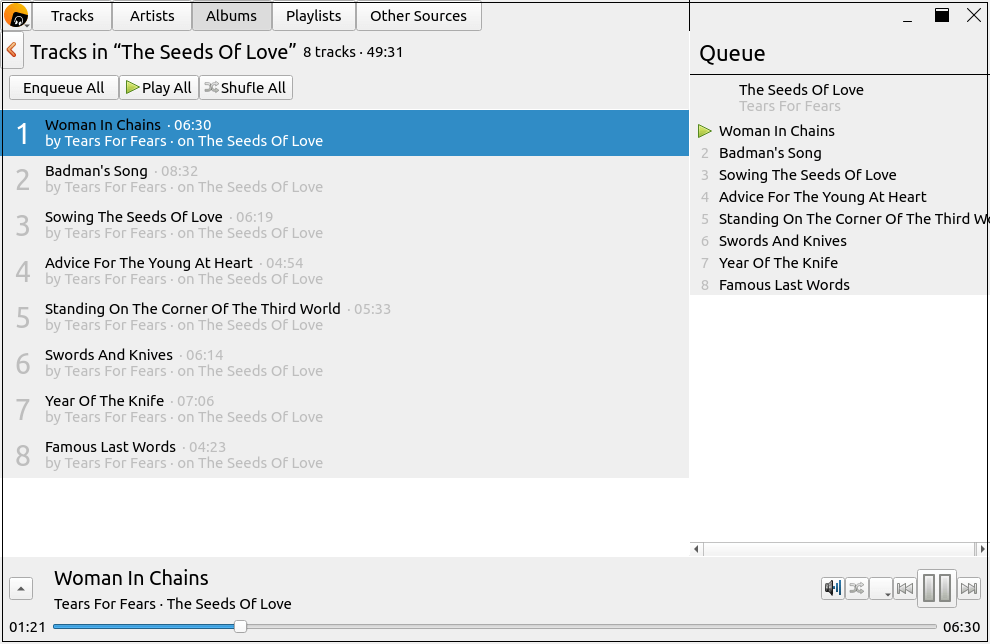 There's also a Tracks view and an Artists view. The latest version has markedly improved the speed of sorting by artist. Overall, version 3.0's interface is a significant improvement over version 2.0.1 which had a ton of glitches. But the program is still prone to crashing.
There are more positives. In my book, any music player must have gapless playback1. There's a few Linux music players that don't offer gapless playback. Fortunately, theBeat offers good support gapless playback.
theBeat also offers network streaming. Paste in a network stream URL and listen to internet radio. Basic but it works.
Version 2.0.1 included a visualizer option (shown below), but this has been removed in version 3.0. It's not clear if the visualizer will be reintroduced later. I hope not as this type of graphic frippery is definitely not my cup of tea!
1 Gapless playback is the uninterrupted playback of consecutive audio tracks, such that relative time distances in the original audio source are preserved over track boundaries on playback. It's essential if you listen to classical, electronic music, concept albums, and progressive rock.
Pages in this article:
Page 1 – Introduction / Installation
Page 2 – In Operation
Page 3 – Summary