Space Station 14 is a multiplayer game about paranoia and chaos on a space station.
Space Station 14 tells the story of an ordinary shift on a space station gone wrong. Immerse yourself into your role, tinker with detailed systems, and survive the chaos in this round-based multiplayer role playing game.
Your custom character can spawn as one of dozens of crew and enemy jobs, ranging from engineer to captain, or even a traitor, each with its own unique gear. Your duties guide you through rich interactions with complex mechanics, whether you're managing your inventory, setting up the reactor, or flushing yourself down the disposal tubes.
As disaster, incompetence, and sabotage strike the station, the tension rises – opening up emergent situations that force you to make hard choices. Will you patch up the medical bay after an asteroid punches a hole in it, or fight for control when the captain gets murdered by revolutionaries? Do you break out an unjustly imprisoned clown, or sit back at the bar and serve drinks without a care in the world?
The story of the station's collapse is in the hands of its players, and each round is an intense, immersive experience that will leave you wanting more.
It is a remake of the cult-classic Space Station 13.
This is free and open source software.
Website: github.com/space-wizards/space-station-14
Support: Documentation
Developer: Space Wizards Federation
License: MIT License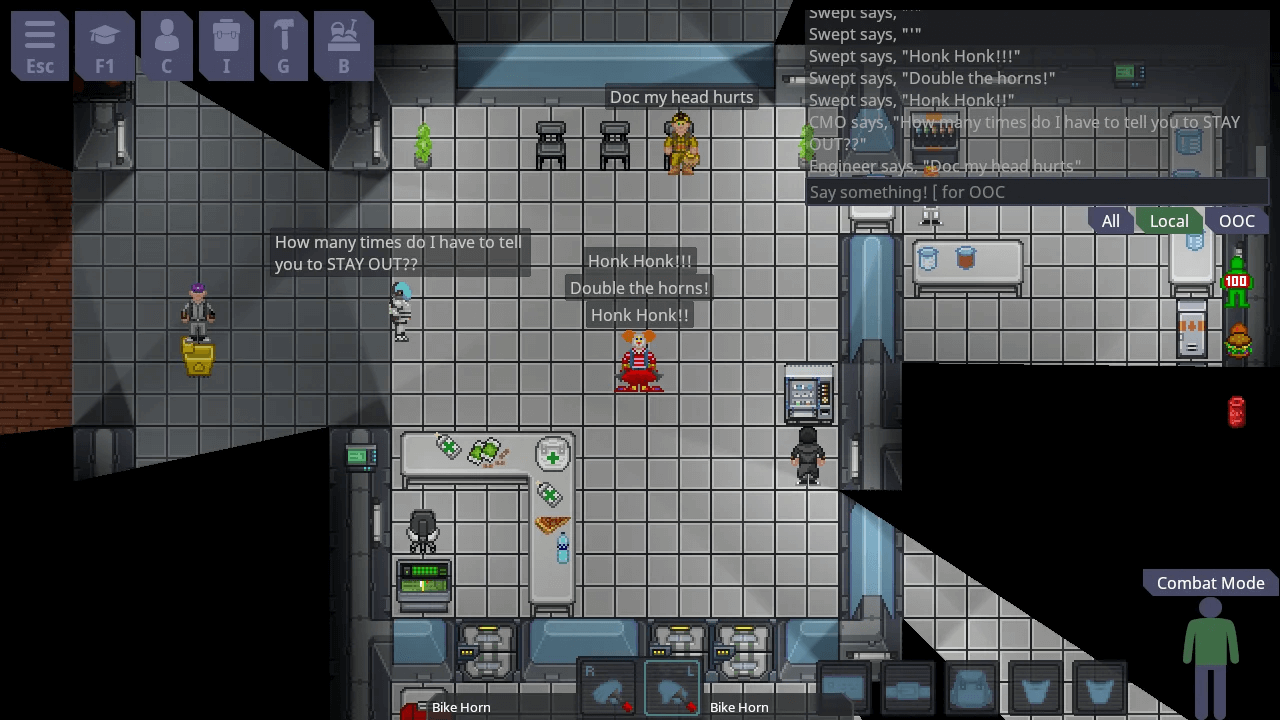 Space Station 14 is written in C#. Learn C# with our recommended free books and free tutorials.
Return to Role-Playing Games Home Page
---
Popular series
New to Linux? Read our Linux for Starters series. We start right at the basics and teach you everything you need to know to get started with Linux.
The largest compilation of the best free and open source software in the universe. Each article is supplied with a legendary ratings chart helping you to make informed decisions.
Hundreds of in-depth reviews offering our unbiased and expert opinion on software. We offer helpful and impartial information.
Replace proprietary software with open source alternatives: Google, Microsoft, Apple, Adobe, IBM, Autodesk, Oracle, Atlassian, Corel, Cisco, Intuit, and SAS.
Linux Around The World showcases events and usergroups that are relevant to Linux enthusiasts.
Surveys popular streaming services from a Linux perspective: Amazon Music Unlimited, Myuzi, Spotify, Deezer, Tidal.
Saving Money with Linux looks at how you can reduce your energy bills running Linux.
Essential Linux system tools focuses on small, indispensable utilities, useful for system administrators as well as regular users.
Linux utilities to maximise your productivity. Small, indispensable tools, useful for anyone running a Linux machine.
Home computers became commonplace in the 1980s. Emulate home computers including the Commodore 64, Amiga, Atari ST, ZX81, Amstrad CPC, and ZX Spectrum.
Now and Then examines how promising open source software fared over the years. It can be a bumpy ride.
Linux at Home looks at a range of home activities where Linux can play its part, making the most of our time at home, keeping active and engaged.
Linux Candy reveals the lighter side of Linux. Have some fun and escape from the daily drudgery.
Getting Started with Docker helps you master Docker, a set of platform as a service products that delivers software in packages called containers.
Best Free Android Apps. We showcase free Android apps that are definitely worth downloading. There's a strict eligibility criteria for inclusion in this series.
These best free books accelerate your learning of every programming language. Learn a new language today!
These free tutorials offer the perfect tonic to our free programming books series.
Stars and Stripes is an occasional series looking at the impact of Linux in the USA.