Neovide is a simple graphical user interface for Neovim. Neovide is based on a library called Skulpin which uses Skia and Vulkan to render vector graphics.
Configuration is done almost completely via global Neovide variables in the vim config and can be chnaged live at runtime.
Neovide is free and open source software.
Features include:
Standard features offered by a GUI.
Supports ligatures and full HarfBuzz backed font shaping. HarfBuzz is a text shaping library.
Animated cursor – the cursor animates into position with a smear effect to improve tracking of cursor position. The animated cursor is configurable. For example, you can change the animation trail length, and the animation length. Set the animation length to zero turns off the animated cursor.

There are a number of vfx modes which produce particles behind the cursor including railgun, torpedo, pixiedust, sonic boom, ripple, and wireframe. There's also options to change the particle settings: particle opacity, particle lifetime, particle density, particle speed, particle phase, and particle curl.

Emoji support – font fallback supports rendering of emoji not contained in the configured font.
Configurable refresh rate.
Transparency support.
Full screen.
Cross-platform support – runs under Linux, macOS, and Windows.
Website: github.com/neovide/neovide
Support:
Developer: Neovide team
License: MIT License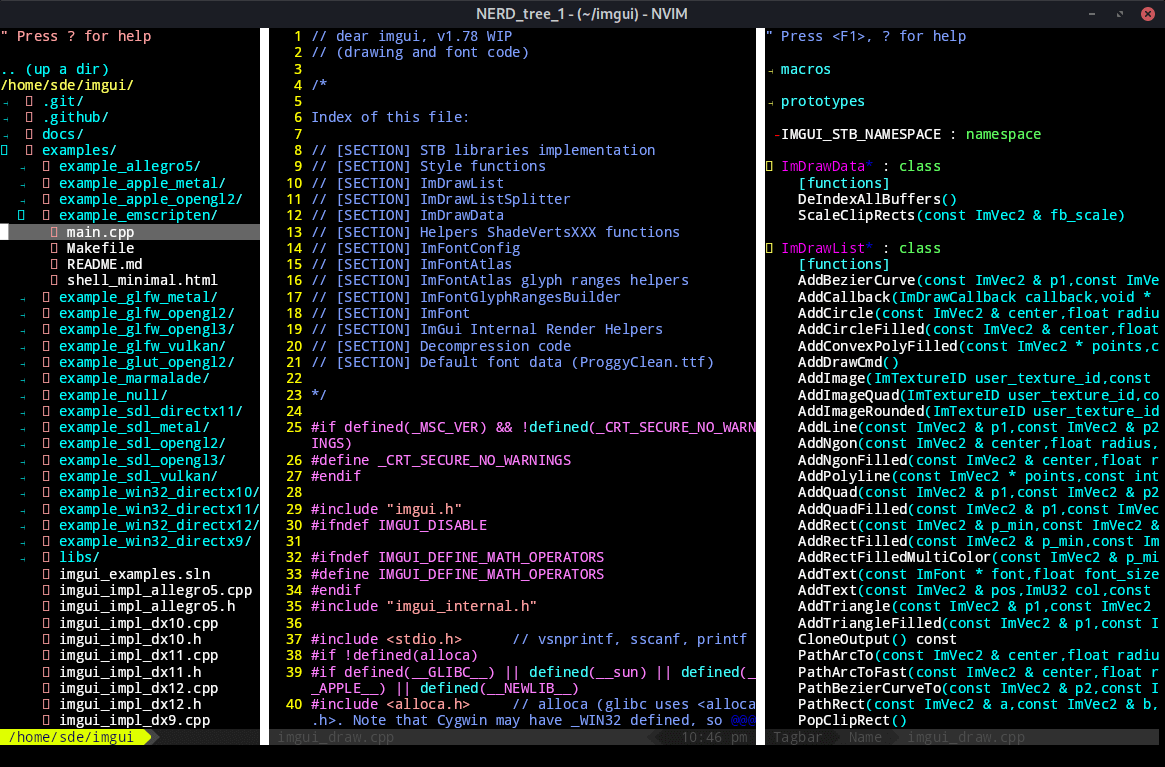 Neovide is written in Rust. Learn Rust with our recommended free books and free tutorials.
Return to Neovim GUIs Home Page
---
Popular series
New to Linux? Read our Linux for Starters series. We start right at the basics and teach you everything you need to know to get started with Linux.
The largest compilation of the best free and open source software in the universe. Each article is supplied with a legendary ratings chart helping you to make informed decisions.
Hundreds of in-depth reviews offering our unbiased and expert opinion on software. We offer helpful and impartial information.
Replace proprietary software with open source alternatives: Google, Microsoft, Apple, Adobe, IBM, Autodesk, Oracle, Atlassian, Corel, Cisco, Intuit, and SAS.
Linux Around The World showcases events and usergroups that are relevant to Linux enthusiasts.
Surveys popular streaming services from a Linux perspective: Amazon Music Unlimited, Myuzi, Spotify, Deezer, Tidal.
Saving Money with Linux looks at how you can reduce your energy bills running Linux.
Essential Linux system tools focuses on small, indispensable utilities, useful for system administrators as well as regular users.
Linux utilities to maximise your productivity. Small, indispensable tools, useful for anyone running a Linux machine.
Home computers became commonplace in the 1980s. Emulate home computers including the Commodore 64, Amiga, Atari ST, ZX81, Amstrad CPC, and ZX Spectrum.
Now and Then examines how promising open source software fared over the years. It can be a bumpy ride.
Linux at Home looks at a range of home activities where Linux can play its part, making the most of our time at home, keeping active and engaged.
Linux Candy reveals the lighter side of Linux. Have some fun and escape from the daily drudgery.
Getting Started with Docker helps you master Docker, a set of platform as a service products that delivers software in packages called containers.
Best Free Android Apps. We showcase free Android apps that are definitely worth downloading. There's a strict eligibility criteria for inclusion in this series.
These best free books accelerate your learning of every programming language. Learn a new language today!
These free tutorials offer the perfect tonic to our free programming books series.
Stars and Stripes is an occasional series looking at the impact of Linux in the USA.