Last Updated on July 14, 2023
NeoMutt is a small but very powerful text based program for reading and sending electronic mail under Unix operating systems, including support for color terminals, MIME, OpenPGP, and a threaded sorting mode.
It's a project of projects, as it brings together many patches to extend Mutt.
NeoMutt is configured through variables which, if the user wants to permanently use a non-default value, are written to configuration files. NeoMutt supports a rich config file syntax to make even complex configuration files readable and commentable.
Because NeoMutt allows for customizing almost all key bindings, there are so-called "functions" which can be executed manually (using the command line) or in macros. Macros allow the user to bind a sequence of commands to a single key or a short key sequence instead of repeating a sequence of actions over and over.
NeoMutt supports a "hook" concept which allows the user to execute arbitrary configuration commands and functions in certain situations such as entering a folder, starting a new message or replying to an existing one. These hooks can be used to highly customize NeoMutt's behavior including managing multiple identities, customizing the display for a folder or even implementing auto-archiving based on a per-folder basis and much more.
Features include:
Attach Headers Color – Color attachment headers using regex, just like mail bodies.
Compose to Sender – Send new mail to the sender of the current mail.
Compressed Folders – Read from/write to compressed mailboxes.
Conditional Dates – Use rules to choose date format.
Custom Mailbox Tags – Implements Notmuch tags and Imap keywords.
Encrypt-to-Self – Save a self-encrypted copy of emails.
Fmemopen – Replace some temporary files with memory buffers.
Forgotten Attachment – Alert user when (s)he forgets to attach a file to an outgoing email.
Global Hooks – Define actions to run globally within NeoMutt.
Header Cache Compression – Options for compressing the header cache files.
Ifdef – Conditional config options.
Index Color – Custom rules for theming the email index.
Initials Expando – Expando for author's initials.
Kyoto Cabinet – Kyoto Cabinet backend for the header cache.
Limit Current Thread – Focus on one Email Thread.
LMDB – LMDB backend for the header cache.
Multiple FCC – Save multiple copies of outgoing mail.
Nested If – Allow complex nested conditions in format strings.
New Mail – Execute a command upon the receipt of new mail.
NNTP – Talk to a Usenet news server.
Notmuch – Email search engine.
Progress Bar – Show a visual progress bar on slow operations.
Quasi-Delete – Mark emails that should be hidden, but not deleted.
Reply With X-Orig-To – Direct reply to email using X-Original-To header.
Sensible Browser – Make the file browser behave.
Sidebar – Panel containing list of Mailboxes.
Skip Quoted – Leave some context visible.
Status Color – Custom rules for theming the status bar.
TLS-SNI – Negotiate with a server for a TLS/SSL certificate.
Trash Folder – Automatically move deleted emails to a trash bin.
Website: neomutt.org
Support: Guide
Developer: Richard Russon and many contributors
License: GNU General Public License v2.0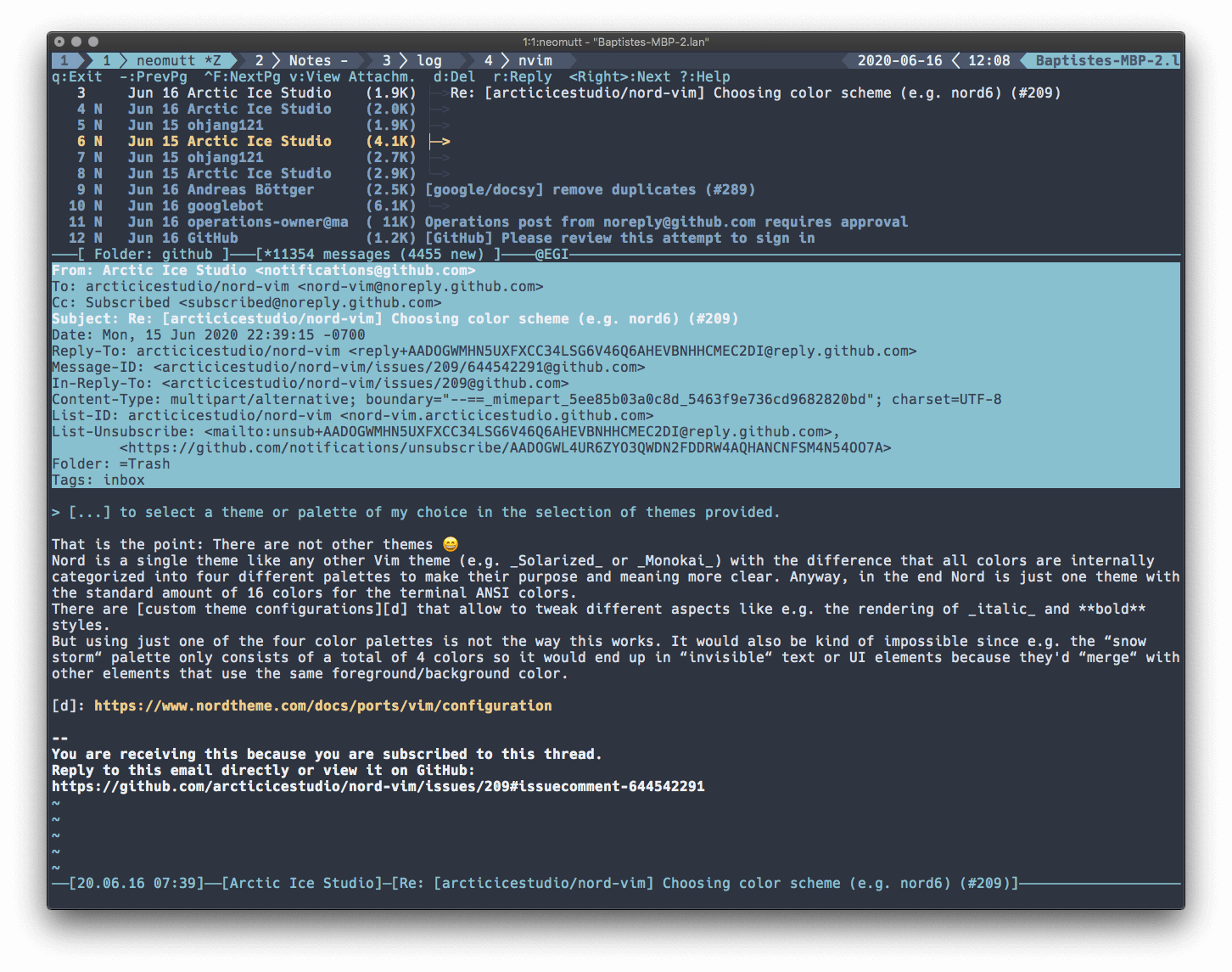 NeoMutt is written in C. Learn C with our recommended free books and free tutorials.
Return to Console Based Email Clients
---
Popular series
The largest compilation of the best free and open source software in the universe. Each article is supplied with a legendary ratings chart helping you to make informed decisions.
Hundreds of in-depth reviews offering our unbiased and expert opinion on software. We offer helpful and impartial information.
Replace proprietary software with open source alternatives: Google, Microsoft, Apple, Adobe, IBM, Autodesk, Oracle, Atlassian, Corel, Cisco, Intuit, and SAS.
Awesome Free Linux Games Tools showcases a series of tools that making gaming on Linux a more pleasurable experience. This is a new series.
Machine Learning explores practical applications of machine learning and deep learning from a Linux perspective. This is a new series.
New to Linux? Read our Linux for Starters series. We start right at the basics and teach you everything you need to know to get started with Linux.
Alternatives to popular CLI tools showcases essential tools that are modern replacements for core Linux utilities.
Essential Linux system tools focuses on small, indispensable utilities, useful for system administrators as well as regular users.
Linux utilities to maximise your productivity. Small, indispensable tools, useful for anyone running a Linux machine.
Surveys popular streaming services from a Linux perspective: Amazon Music Unlimited, Myuzi, Spotify, Deezer, Tidal.
Saving Money with Linux looks at how you can reduce your energy bills running Linux.
Home computers became commonplace in the 1980s. Emulate home computers including the Commodore 64, Amiga, Atari ST, ZX81, Amstrad CPC, and ZX Spectrum.
Now and Then examines how promising open source software fared over the years. It can be a bumpy ride.
Linux at Home looks at a range of home activities where Linux can play its part, making the most of our time at home, keeping active and engaged.
Linux Candy reveals the lighter side of Linux. Have some fun and escape from the daily drudgery.
Getting Started with Docker helps you master Docker, a set of platform as a service products that delivers software in packages called containers.
Best Free Android Apps. We showcase free Android apps that are definitely worth downloading. There's a strict eligibility criteria for inclusion in this series.
These best free books accelerate your learning of every programming language. Learn a new language today!
These free tutorials offer the perfect tonic to our free programming books series.
Linux Around The World showcases usergroups that are relevant to Linux enthusiasts. Great ways to meet up with fellow enthusiasts.
Stars and Stripes is an occasional series looking at the impact of Linux in the USA.