Lepton with time chart
Earlier in this article, we confirmed that Guetzli runs slower than molasses. And MozJPEG is fairly nippy at encoding. So how does Lepton fare?
Here's a chart showing the time taken by Lepton to compress a variety of images. Even the 36MP photograph took a mere 2.4 seconds.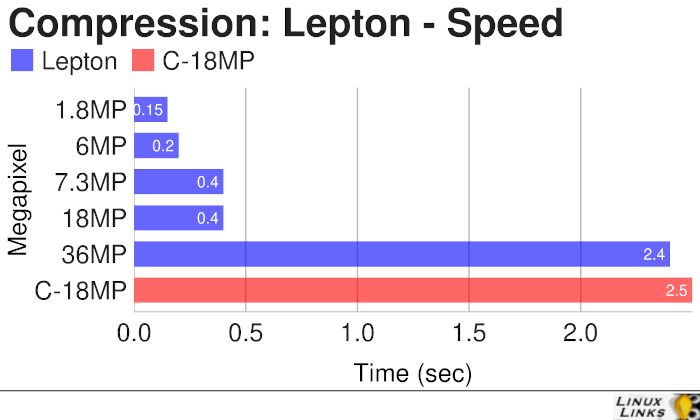 The C-18MP entry is MozJPEG (cjpeg) tackling an 18MP image in 2.5 seconds. Lepton is more than 6 times quicker. Remembering that Guetzli took a whopping 1848 seconds, Lepton is 770 times quicker.
Pages in this article:
Page 1 – Introduction
Page 2 – Guetzli – Compression charts
Page 3 – Guetzli – Time chart
Page 4 – MozJPEG – Compression charts
Page 5 – MozJPEG – Time chart
Page 6 – Lepton – Compression charts
Page 7 – Lepton – Time chart
Page 8 – Summary