MozJPEG with time chart
We observed Guetzli sacrifices encoding time taking over 30 minutes to compress a single 36MP photo. How does MozJPEG fare?
Our tests show that MozJPEG compresses photos in only a few seconds regardless of the number of MPs. You can compress thousands of images in the time it takes to brew a cup of tea.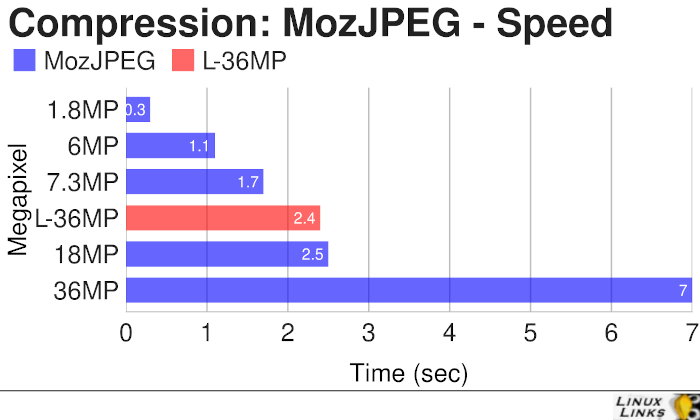 You're probably wondering about the entry L-36MP in the chart above. This shows the time taken to compress the same 36MP photo with a very different JPEG encoder called Lepton. Lepton is almost 3 times quicker at compressing this photo.
Let's now put Lepton under the microscope.
Next page: Lepton – Compression charts
Pages in this article:
Page 1 – Introduction
Page 2 – Guetzli – Compression charts
Page 3 – Guetzli – Time chart
Page 4 – MozJPEG – Compression charts
Page 5 – MozJPEG – Time chart
Page 6 – Lepton – Compression charts
Page 7 – Lepton – Time chart
Page 8 – Summary