In Operation
Here's an image of FLB Music in action. The interface is well designed and intuitive. Our initial impressions were really heightened by the software's aesthetics. But it's important never to judge a book by its cover, and this also applies to software.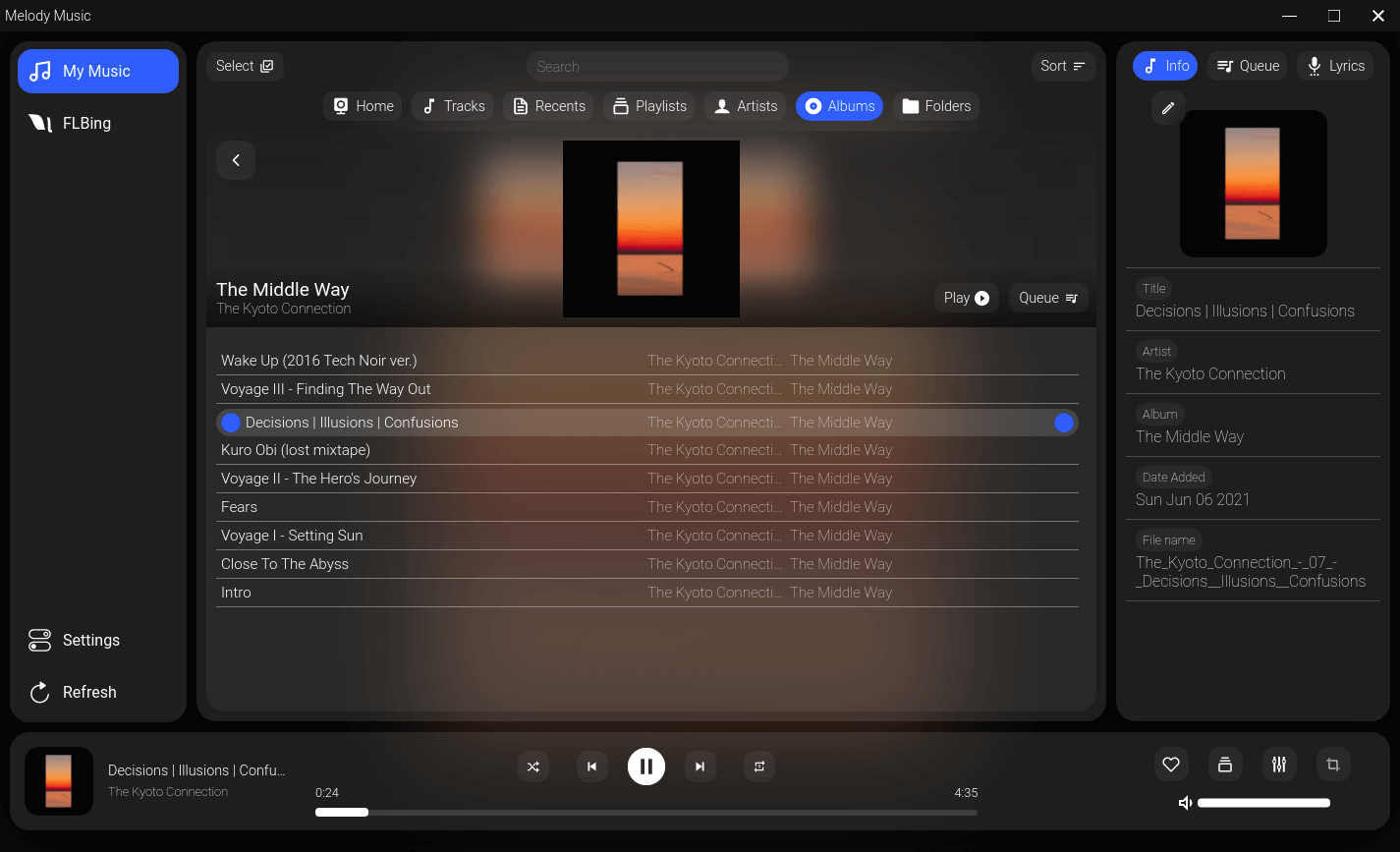 The software lets you organize your music by artists, albums, folders, and there's support for playlists too. The right hand pane lets you modify the current playback queue and show lyrics of the currently played song.
FLB Music also lets you download from YouTube and Deezer.
Mini Mode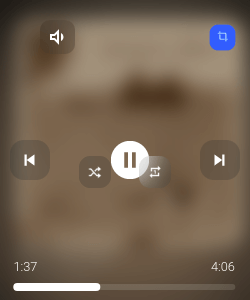 We like the software' mini mode which saves a lot of screen estate but still gives you access to essential controls.
Here's an image of the mini mode in action. The image shows the controls as the mouse has hovered on the window. With the mouse elsewhere, you'll see a picture of the album art. The mini mode works well and is a welcome feature.
Equalizer
As audiophiles, we passionately hate graphic equalizers.
With a good audio setup, you really should never need this sort of functionality. But we recognise that many people do benefit from them, and many Linux music players include them.
FLB Music offers a 5-band equalizer which is a mite stingy. There are also various presets for different types of music such as classical, rock, jazz, and pop.
At the bottom of the window are bass, treble and volume boost controls. We didn't perform any significant testing of the equalizer.
What else does the software offer?
Supports multiple music directories for your library.
Daily mixes – there's a separate section which shows your most played tracks with the option to play that mix.
Fresh and Juicy mix –  these are newly added tracks.
Themes: choose from fancy dancy (the default), fake black, utter black, and eye killer (as the name suggests the latter is a very white affair).
Set the default tab (choose from Home, Tracks, Playlists, Artists, Albums, or Folders).
Notifications.
Video support (this is turned off by default).
How does the music player perform in operation? In one word, disappointing.
We always consider a music player must have gapless playback. Gapless playback is the uninterrupted playback of consecutive audio tracks, such that relative time distances in the original audio source are preserved over track boundaries on playback. It's essential if you listen to classical, electronic music, concept albums, and progressive rock. There's a few Linux music players that don't offer gapless playback.
Sadly FLB Music falls into the minority camp bereft of gapless playback. That's a showstopper in our book.
Further, the music player is rather buggy. Not in the playback department, but its cataloguing is poor. For example, we ran into a lot of problems with the software not adding our music library correctly. And adding a different folder often just fails to work.
Next page: Page 3 – Memory Usage
Pages in this article:
Page 1 – Introduction / Installation
Page 2 – In Operation
Page 3 – Memory Usage
Page 4 – Summary