darktable is an open source photography workflow application and raw developer. This software manages your digital negatives in a database and lets you view them through a zoomable lighttable. it also enables you to develop raw images and enhance them.
It tries to fill the gap between the many excellent existing free raw converters and image management tools (such as ufraw or f-spot). The user interface is built around efficient caching of image metadata and mipmaps, all stored in a database. the user will always be able to interact, even if the full resolution image is not yet loaded.
All editing is fully non-destructive and only operates on cached image buffers for display. the full image is only converted during export. The frontend is written in gtk+/cairo, the database uses sqlite3, raw image loading is done using libraw, high-dynamic range, and standard image formats such as jpeg are also supported. The core operates completely on floating point values, so darktable can not only be used for photography but also for scientifically acquired images or output of renderers (high dynamic range).
Features include:
Non-destructive editing throughout the complete workflow, your original images are never modified.
Take advantage of the real power of raw: All darktable core functions operate on 4×32-bit floating point pixel buffers, enabling SSE instructions for speedups.
GPU accelerated image processing: many image opertions are lightning fast thanks to OpenCL support (runtime detection and enabling).
Professional color management: darktable is fully color managed, supporting automatic display profile detection on most systems, including built-in ICC profile support for sRGB, Adobe RGB, XYZ and linear RGB color spaces.
Filtering and sorting: search your image collections by tags, image rating (stars), color labels and many more, use flexible database queries on all metadata of your images.
Image formats: darktable can import a variety of standard, raw and high dynamic range image formats (e.g. JPEG, CR2, NEF, HDR, PFM, RAF … ).
Zero-latency, zoomable user interface: through multi-level software caches darktable provides a fluid experience.
Tethered shooting: support for instrumentation of your camera with live view for some camera brands.
Powerful export system supports Piwigo webalbums, disk storage, 1:1 copy, email attachments and can generate a simple html-based web gallery. darktable allows you to export to low dynamic range (JPEG, PNG, TIFF), 16-bit (PPM, TIFF), or linear high dynamic range (PFM, EXR) images.
Never lose your image development settings darktable uses both XMP sidecar files as well as its fast database for saving metadata and processing settings. All Exif data is read and written using libexiv2.
Automate repetitive tasks: Many aspects of darktable can be scripted in Lua.
Cross platform: darktable runs on Linux, Mac OS X / macports, BSD, Windows and Solaris 11 / GNOME.
Internationalization support: darktable currently comes with 21 translations: Albanian, Catalan, Czech, Danish, Dutch, French, German, Greek, Hebrew, Hungarian, Italian, Japanese, Polish, Portuguese (Brazilian and Portuguese), Russian, Slovak, Slovenian, Spanish, Swedish, Ukrainian.
Website: www.darktable.org
Support: Documentation
Developer: Pascal Obry, Aurélien Pierre, Aldric Renaudin, parafin, Roman Lebedev
License: GNU General Public License v3.0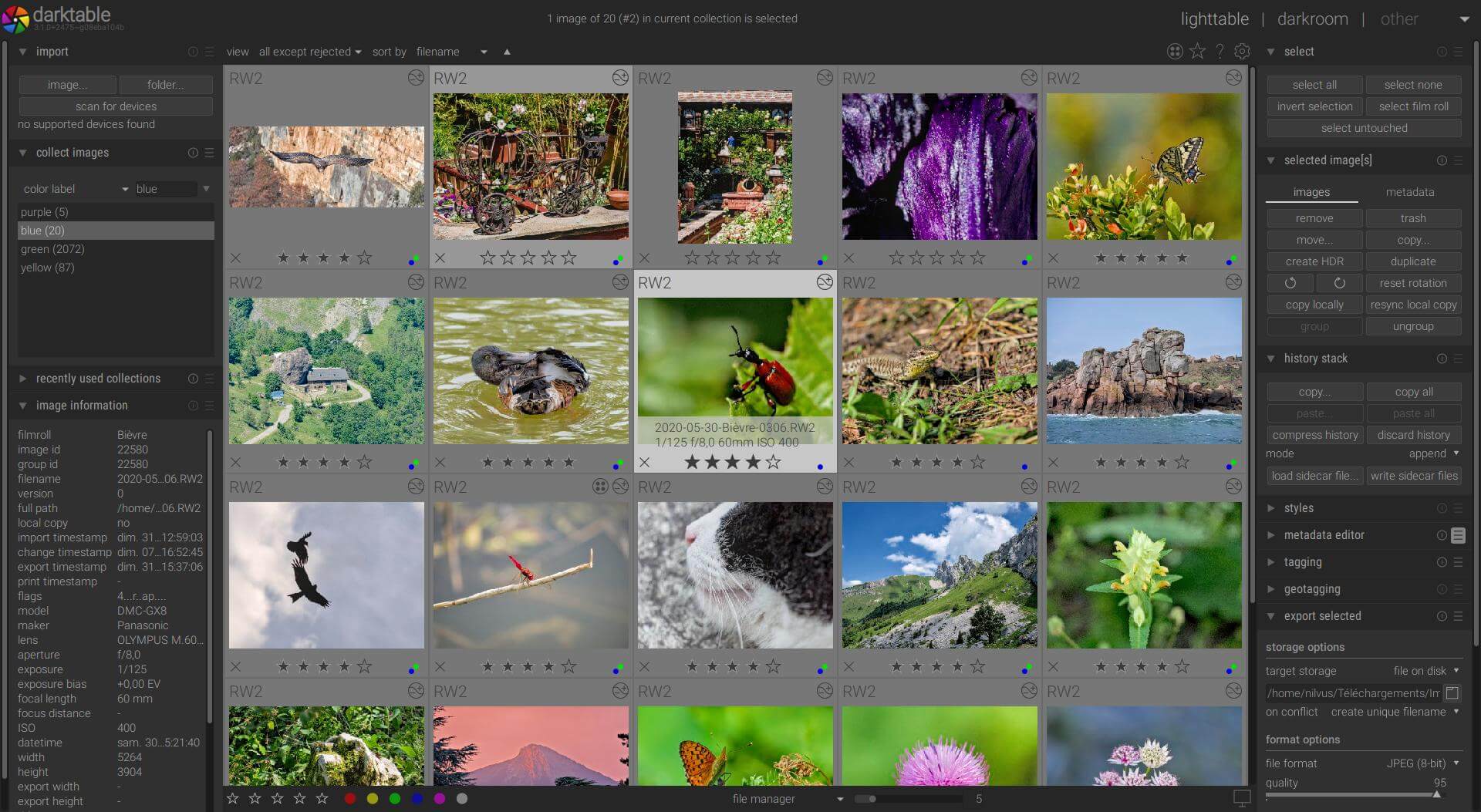 Darktable is written in C. Learn C with our recommended free books and free tutorials.
Return to RAW Processing Tools | Return to Camera Tools | Return to Photo Management
---
Popular series
The largest compilation of the best free and open source software in the universe. Each article is supplied with a legendary ratings chart helping you to make informed decisions.
Hundreds of in-depth reviews offering our unbiased and expert opinion on software. We offer helpful and impartial information.
Replace proprietary software with open source alternatives: Google, Microsoft, Apple, Adobe, IBM, Autodesk, Oracle, Atlassian, Corel, Cisco, Intuit, and SAS.
Awesome Free Linux Games Tools showcases a series of tools that making gaming on Linux a more pleasurable experience. This is a new series.
Machine Learning explores practical applications of machine learning and deep learning from a Linux perspective. This is a new series.
New to Linux? Read our Linux for Starters series. We start right at the basics and teach you everything you need to know to get started with Linux.
Alternatives to popular CLI tools showcases essential tools that are modern replacements for core Linux utilities.
Essential Linux system tools focuses on small, indispensable utilities, useful for system administrators as well as regular users.
Linux utilities to maximise your productivity. Small, indispensable tools, useful for anyone running a Linux machine.
Surveys popular streaming services from a Linux perspective: Amazon Music Unlimited, Myuzi, Spotify, Deezer, Tidal.
Saving Money with Linux looks at how you can reduce your energy bills running Linux.
Home computers became commonplace in the 1980s. Emulate home computers including the Commodore 64, Amiga, Atari ST, ZX81, Amstrad CPC, and ZX Spectrum.
Now and Then examines how promising open source software fared over the years. It can be a bumpy ride.
Linux at Home looks at a range of home activities where Linux can play its part, making the most of our time at home, keeping active and engaged.
Linux Candy reveals the lighter side of Linux. Have some fun and escape from the daily drudgery.
Getting Started with Docker helps you master Docker, a set of platform as a service products that delivers software in packages called containers.
Best Free Android Apps. We showcase free Android apps that are definitely worth downloading. There's a strict eligibility criteria for inclusion in this series.
These best free books accelerate your learning of every programming language. Learn a new language today!
These free tutorials offer the perfect tonic to our free programming books series.
Linux Around The World showcases usergroups that are relevant to Linux enthusiasts. Great ways to meet up with fellow enthusiasts.
Stars and Stripes is an occasional series looking at the impact of Linux in the USA.