CodiMD is a realtime collaborative markdown notes. It takes inspiration from Hackpad, but claims it offers more focus on speed and flexibility. The program is built from HackMD source code.
It can use Kubernetes, Helm, and PV provisioner support in the underlying infrastructure.
CodiMD is free and open source software.
Features include:
Works with charts and MathJax.
Supports slide mode.
Editor mode switcher – show only the editor, show only the output, or see both the editor and output in a split view.
Highly customizable.
Access permissions for notes. (Only the owner of the note can change the note's permissions).
Multilanguage spellchecker support.
Customize color schemes.
PlantUML syntax highlighting in the editor.
Supports Prometheus metrics.
Display server metrics and realtime statistics on Grafana Dashboard.
Export notes with Pandoc.
Embed geolocation as map (Open Street Map).
Upload images into the program.
Themes – Light, One Dark (Default), Monokai, Solarized Dark, Solarized Light, Dracula, Material, Nord, Panda, Ayu Dark, Ayu Mirage, Tomorror Night Bright, and Tomorror Night Eighties.
Command Line Interface is available.
Authentication – Email, SAML, LDAP, OAuth.
Website: hackmd.io/c/codimd-documentation
Support: Documentation, GitHub Code Repository
Developer: Many contributors
License: GNU Affero General Public License v3.0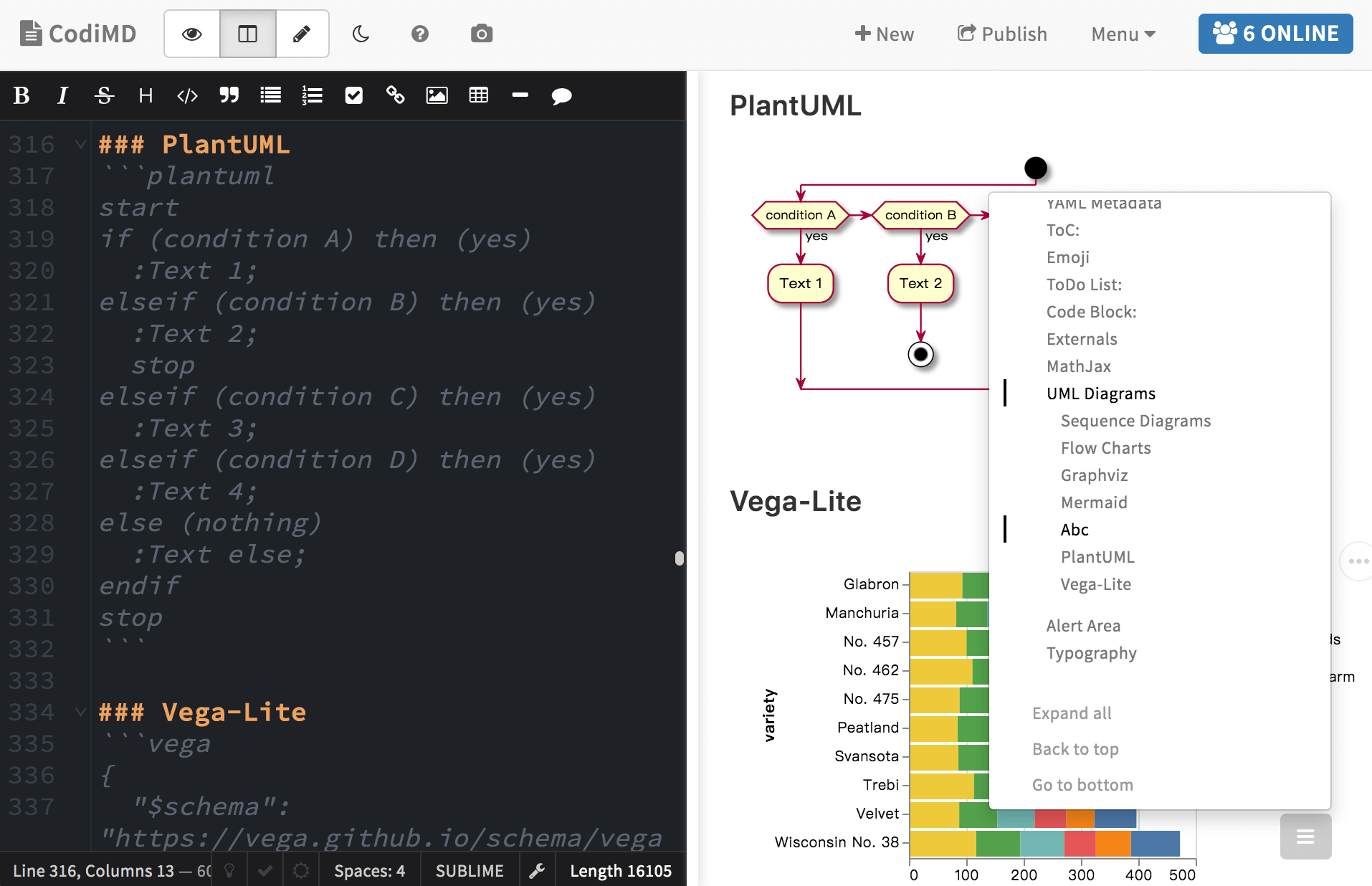 CodiMD is written in JavaScript. Learn JavaScript with our recommended free books and free tutorials.
Return to Collaborative Editing Tools Home Page | Return to Markdown Editors Home Page