SudoQ is an implementation of the classic Sudoku logic-based, combinatorial number-placement puzzle.
In classic sudoku, the objective is to fill a 9×9 grid with digits so that each column, each row, and each of the nine 3×3 subgrids that compose the grid (also called "boxes", "blocks", or "regions") contain all of the digits from 1 to 9.
The puzzle setter provides a partially completed grid, which for a well-posed puzzle has only one correct solution.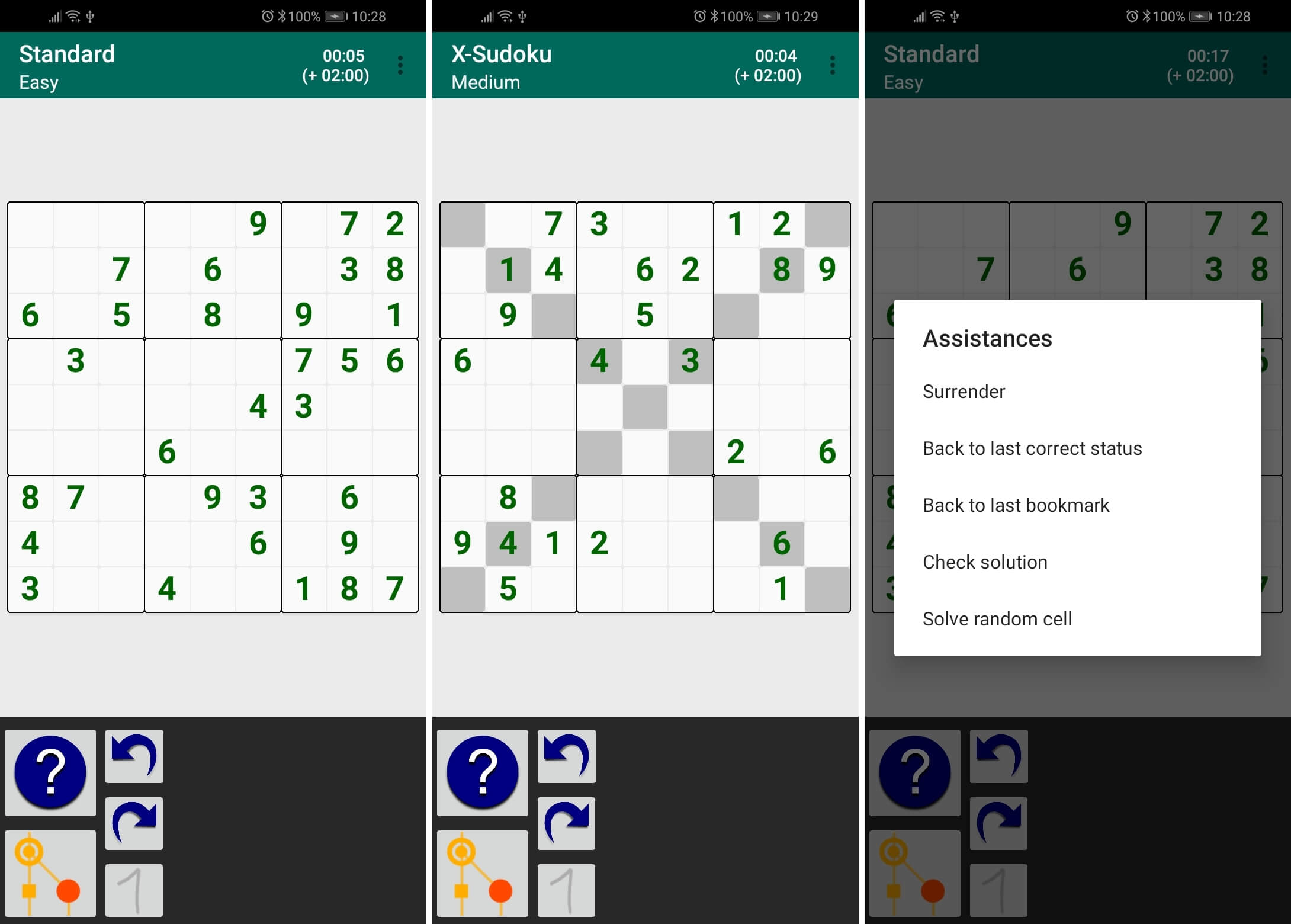 What do we like about SudoQ? Here's a few of the app's great strengths:
Support for different variants including:

4×4 grid.
6×6 grid.
16×16 grid.
Samurai-Sudoku.
X-Sudoku.
Hyper-Sudoku – solved by filling the numbers from 1 to 9 into the blank cells, but it has, unlike classic Sudoku, 13 regions (four regions overlap with the nine standard regions).
Squiggly-Sudoku 9×9 grid – also known as jigsaw or irregular sudoku.
Squoggly-Sudoku 9×9 grid.
Stairstep-Sudoku 9×9 grid – another variant which has irregular shaped regions.

4 different difficult levels: Easy, medium, difficult, and infernal.
Gesture builder:

Gesture Input – write the number on the screen with your finger.
Auto Adjust Notices.
Mark Row/Column – emphasises the cells in the currently selected row and column.
Mark Wrong Symbols – check if you've made any mistakes.
Input Assistance – with this assistance you can only place a digit into a cell that is not in one of the cells of the same row.

Active assistances – solve random cell, solve current cells, check to solution, back to last correct status, and surrender. The latter lets you see the solution although you get no score for the game.
Built-in tutorial.
SudoQ is a great implementation of this classic puzzle game. The app offers a good range of features and doesn't require internet access to play.
There's a real dearth of high quality open source software available for Android. That's a real shame! Fortunately SudoQ is open source goodness.
---
Eligibility criteria
For an Android app to be awarded our love, it must satisfy the following criteria:
High quality with a good set of features, stable in operation and mature software;
No charge to use the app;
No intrusive ads in the program;
Open source and proprietary software can be included;
Apps where additional functionality is available for a payment can be included where appropriate.