There's a strict eligibility criteria for inclusion in this series. See the Eligibility Criteria section below.
DroidFish is a rather special chess playing app that sports an attractive interface with clear and stylish pieces.
The app supports various playing modes. You can play against your phone, against another human, or just watch as a spectator as your phone slugs it out against itself.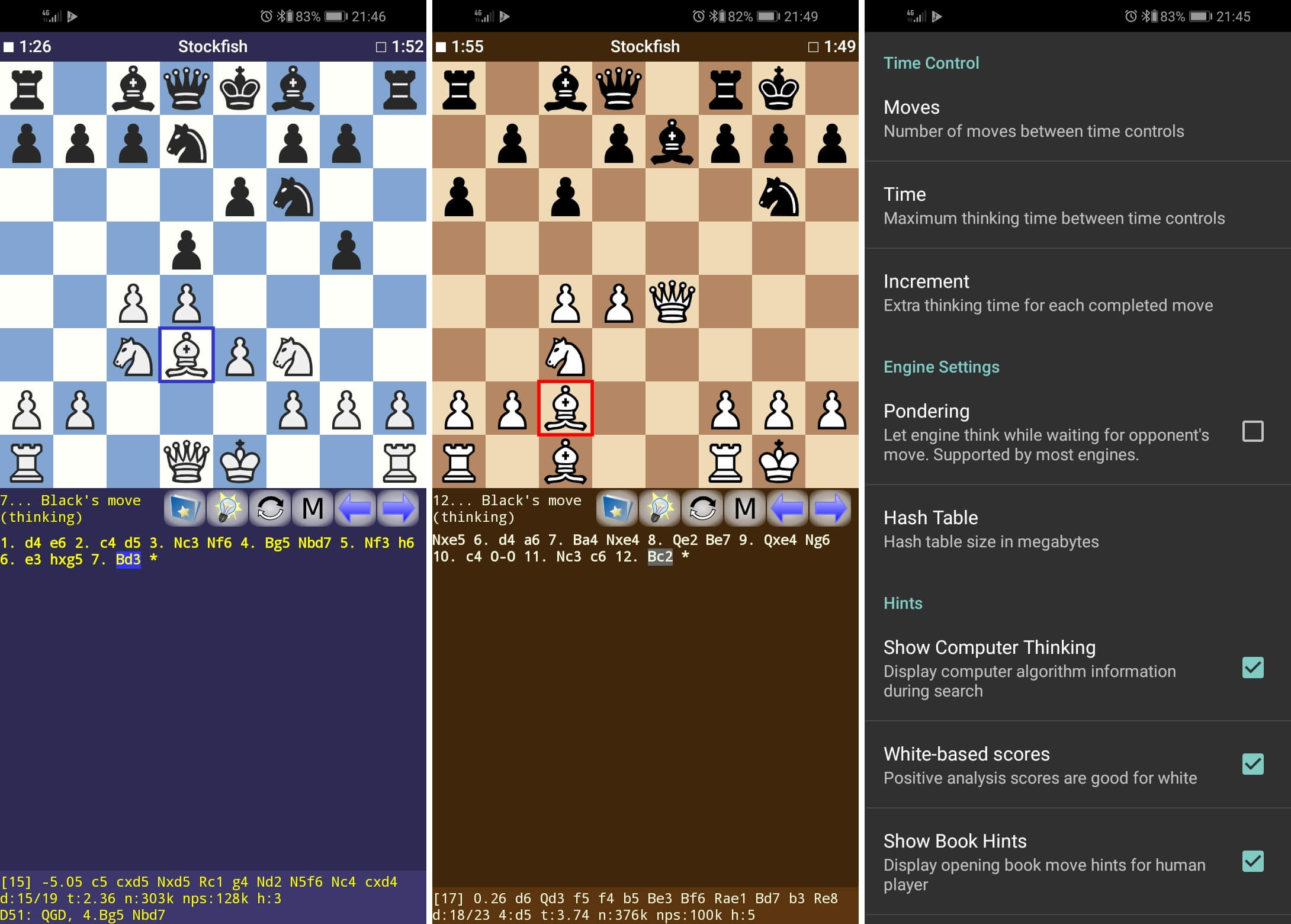 Features include:
Built-in opening book. You can also use a larger external Encyclopedia of Chess Openings (ECO) book which can be stored on a phone's microSD card. It's also possible to play without an opening book.
Gaviota and Syzygy endgame tablebases.
Set the engine strength. By default the software plays at 1350 ELO, but this is configurable which is extremely useful if you are a beginner to the game.
A choice of two chess engines: Stockfish and CuckooChess. Stockfish is consistently ranked first or near the top of most chess-engine rating lists. CuckooChess is also an advanced free and open-source chess engine. There's a huge range of individual settings including configurable probe depth.
Set up a position and use the program to provide an analysis.
Load/save/annotate 'pgn' games.
Book hints during play.
Highly customizable. There's lots of configuration settings for time control, engine settings, hash table, and more besides. There's other ways of controlling the strength of play. For example, you can enable pondering which lets the chess engine think while waiting for the opponent's move. There's lots of cosmetic tinkering available such as arrows, labels, animation of piece movements, and definable color settings.
Full screen mode.
Blindfold mode.
Scid DB support using "Scid on the go".
Open source license.
DroidFish is a firecracker of an app. It fully deserves our love and is a great way to enjoy playing chess whatever your level of play and experience. It won't be a strong competitor against an International Master or Grandmaster but few play at that level.
Unlike some games, it runs flawlessly even on budget smartphones. It lacks some advanced features such as an online chess database access, automatic annotation and chessbase format support. But its set of features is very respectable.
---
Eligibility criteria
For an Android app to be awarded our love, it must satisfy the following criteria:
High quality with a good set of features, stable in operation and mature software;
No charge to use the app;
No intrusive ads in the program;
Open source and proprietary software can be included;
Apps where additional functionality is available for a payment can be included where appropriate.