Midnight Commander is a user-friendly yet powerful open source text-mode file manager and visual shell, useful to novice and advanced users alike. It can be run on the OS console, or in xterm and other terminal emulators.
It provides a clear, user-friendly, and somewhat protected interface to a Unix system while making many frequent file operations more efficient and preserving the full power of the command prompt.
Midnight Commander allows users to manage files while making most of the screen and providing a clear representation of the filesystem, yet it's simple enough to be run over a telnet or ssh session.
The screen of the Midnight Commander is divided into four parts. Almost all of the screen space is taken up by two directory panels. By default, the second bottommost line of the screen is the shell command line, and the bottom line shows the function key labels. The topmost line is the menu bar line.
The Midnight Commander provides a view of two directories at the same time. One of the panels is the current panel (a selection bar is in the current panel). Almost all operations take place on the current panel.
This package includes an editor called mcedit. mcedit's features include syntax highlighting for certain languages, and works in both ASCII and hex modes.
The file manager has been in continuous development since 1994.
Features include:
Built in Virtual File System: manipulate remote file systems through the FTP and SMB protocols or over secure shell, browse contents of tar, ar, rpm, zip, cpio, lha and rar archives just like local files.
Almost all operations work with the virtual file system, enabling users to do complex tasks, like viewing files in archives on an FTP server.
Mouse support on most terminal emulators for X Window System as well as on the Linux console.
Learn Keys: Midnight Commander may be configured at run time to support any kind of input keys for a given terminal, making its operation possible even on most weird terminals.
Text and hex editors (hex editor is a part of the viewer).

The built-in file viewer, together with the context dependent actions is used to format man pages on the fly, coloring mail messages and more.
Built-in editor supports syntax highlighting and external actions, such as spell checking and formatting.

Hotlist allows users to keep a list of common visited locations, including remote sites and directories inside archives.
Command completion: By pressing Alt-Tab in any place where a filename or an executable are expected, Midnight Commander will complete the name. Pressing the Alt-Tab for a second time, will get a list box with all possible completions.
Subshell support: Run commands by a real shell interpreter. It interacts with bash, tcsh and zsh to provide you with all of the facilities available in the preferred shell.
Find file command can search for the file contents.
Background operations allow users to copy or move files from any virtual file system while they do other tasks (i.e., you can do background FTP copies).
Support for FTP proxy.
Recover deleted files from an ext2 or ext3 partition with the undelete file system. This is a low level file recovery function that can recover files deleted by any program on Linux.
External panelization: Run any arbitrary external command and Midnight Commander will display the output generated as a file listing that can be manipulated as a regular directory.
Emacs-like key bindings are used in all widgets.
Context dependent actions (open, view, edit) are available.
Unicode support. Native support for UTF-8 locales for Unicode.
Internationalization support – translations for 45 languages.
Cross-platform support.
Website: midnight-commander.org
Support: Documentation, FAQ
Developer: Miguel de Icaza and many contributors
License: GNU GPL v3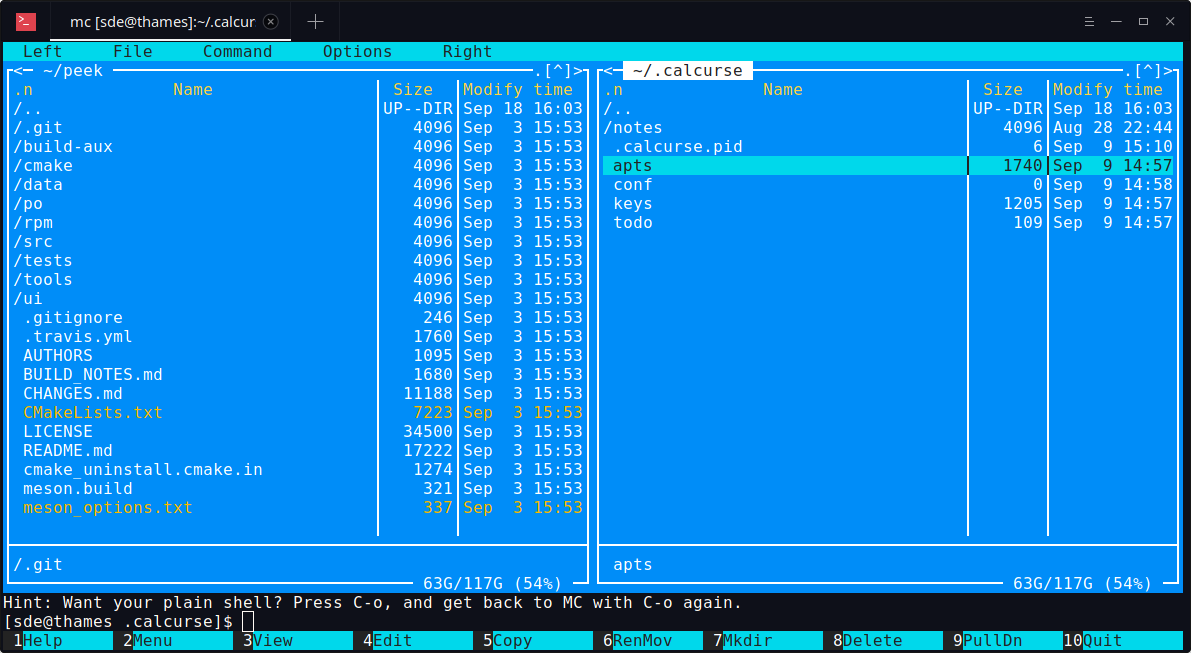 Midnight Commander is written in C. Learn C with our recommended free books and free tutorials.
Return to Survey: Console Based File Managers | Return to File Managers Home Page | Return to Orthodox File Managers Home Page | Return to Console File Managers Home Page
---
Popular series
New to Linux? Read our Linux for Starters series.
The largest compilation of the best free and open source software in the universe. Supplied with our legendary ratings charts.
Hundreds of in-depth reviews offering our unbiased and expert opinion on software.
Alternatives to Google's Products and Services examines your options to migrate from the Google ecosystem with open source Linux alternatives.
Alternatives to Microsoft's Products and Services recommends open source Linux software.
Alternatives to Adobe Cloud is a new series looking at free and open source alternatives to products available from Adobe Cloud's subscription service.
Essential Linux system tools looks at small, indispensable utilities, useful for system administrators as well as regular users.
Linux utilities to maximise your productivity. Small, indispensable tools, useful for anyone running a Linux machine.
Home computers became commonplace in the 1980s. Emulate home computers including the Commodore 64, Amiga, Atari ST, ZX81, Amstrad CPC, and ZX Spectrum.
Now and Then examines how promising open source software fared over the years.
Linux at Home looks at a range of home activities where Linux can play its part, making the most of our time at home, keeping active and engaged.
Linux Candy opens up to the lighter side of Linux. Have some fun!
Best Free Android Apps. There's a strict eligibility criteria for inclusion in this series
These best free books accelerate your learning of every programming language
These free tutorials offer the perfect tonic to the free programming books series
Stars and Stripes is an occasional series looking at the impact of Linux in the USA