Settings
There are various ways you can configure the program. By default the program requests a 20 seconds break every 10 minutes.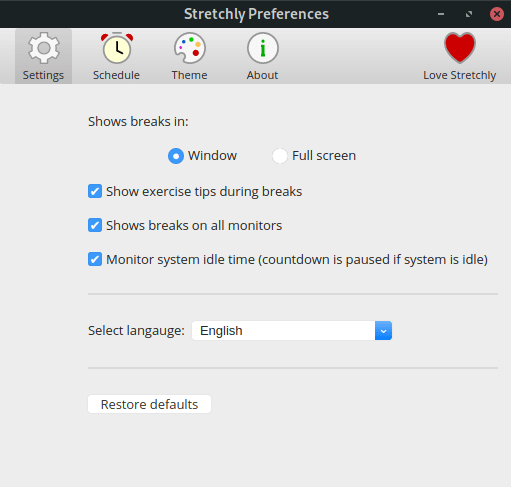 The first pane lets you choose between showing breaks in a window or full screen.
You can turn off exercise tips showing during breaks, turn off breaks being shown on all monitors, as well as the ability to turn off monitoring system idle time.
There's internationalization support with a wide range of languages supported.
There's also the option to restore the program's default settings.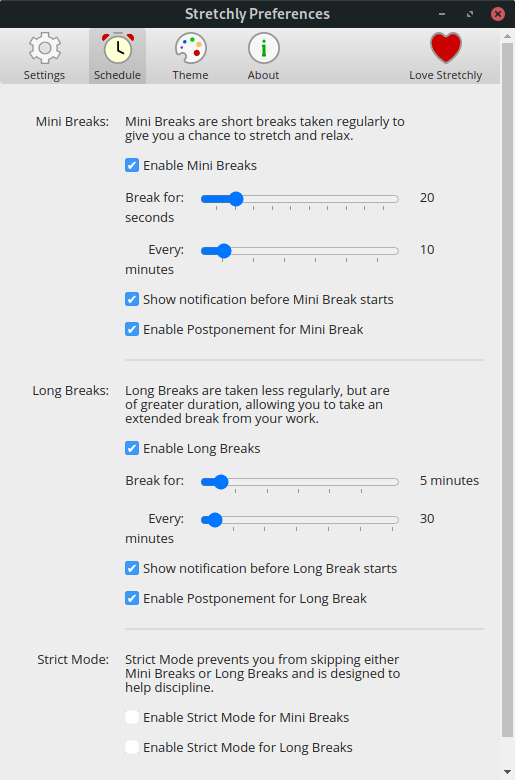 In the Schedule tab there's configuration options for mini breaks, long breaks and the option to enable a strict mode.
You can disable/enable mini breaks with configurable sliders for breaks and their frequency. There's also the option to show/hide notifications before a mini break starts, and the option to enable postponements for mini breaks.
There's the same options for long breaks.
Strict mode prevents you from skipping either mini or long breaks. You can enable this mode for mini and/or long breaks. This mode is extremely important.
Without the mode, it can be too tempting just to skip breaks defeating the whole purpose of the program.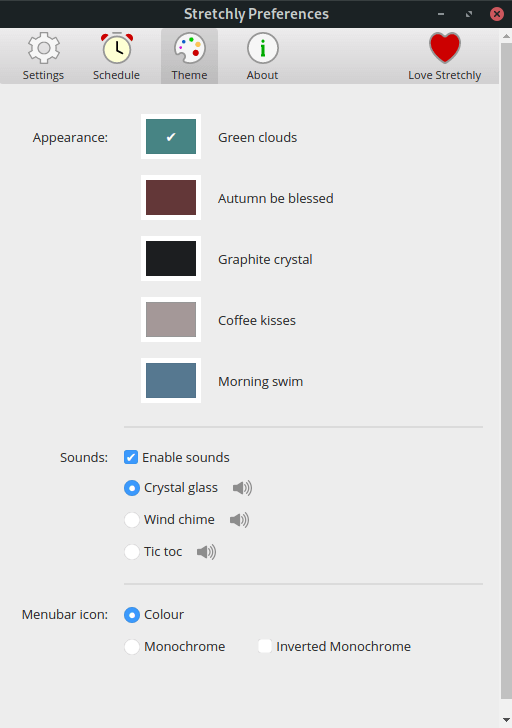 In the Theme section you can choose between 5 color schemes, and configure audio.
For themes, there's green clouds (default), autumn be blessed, graphite crystal, coffee kisses, and morning swim. That's a bit different to the usual bland names typically assigned to themes.
By default sounds are enabled with crystal glass effects, but you can change this to wind chime or tic toc.
The menubar icon can be displayed in color, monochrome, or inverted monochrome.
We prefer no audio notification, and the graphite crystal color scheme.
Pages in this article:
Page 1 – Introduction / Installation
Page 2 – In Operation
Page 3 – Settings
Page 4 – Summary