The developers of ONLYOFFICE Docs, an open-source collaborative office suite, have rolled out a new version of their software with a number of useful improvements and new features for text documents, spreadsheets, presentations and fillable forms. Below you will find a brief overview of what's new in ONLYOFFICE Docs v7.2.
Easily install and delete plugins with a brand-new plugin manager
Third-party plugins that extend the standard functionality of the ONLYOFFICE suite now can be automatically installed from a built-in marketplace. Previously, it was only possible to install them manually by downloading their source from GitHub and adding the plugin repositories to the ONLYOFFICE folder, which was not very convenient for some users.
Version 7.2 changes the game since it allows you to install and delete ONLYOFFICE plugins with a few clicks. You just need to access the Plugins tab on the top toolbar and click the Plugin Manager button. You will see a list of all available plugins with a short description. To install a plugin, it's necessary to click the Install button, and the corresponding icon will appear on the Plugins tab in a few seconds. To delete something, just click the Remove button.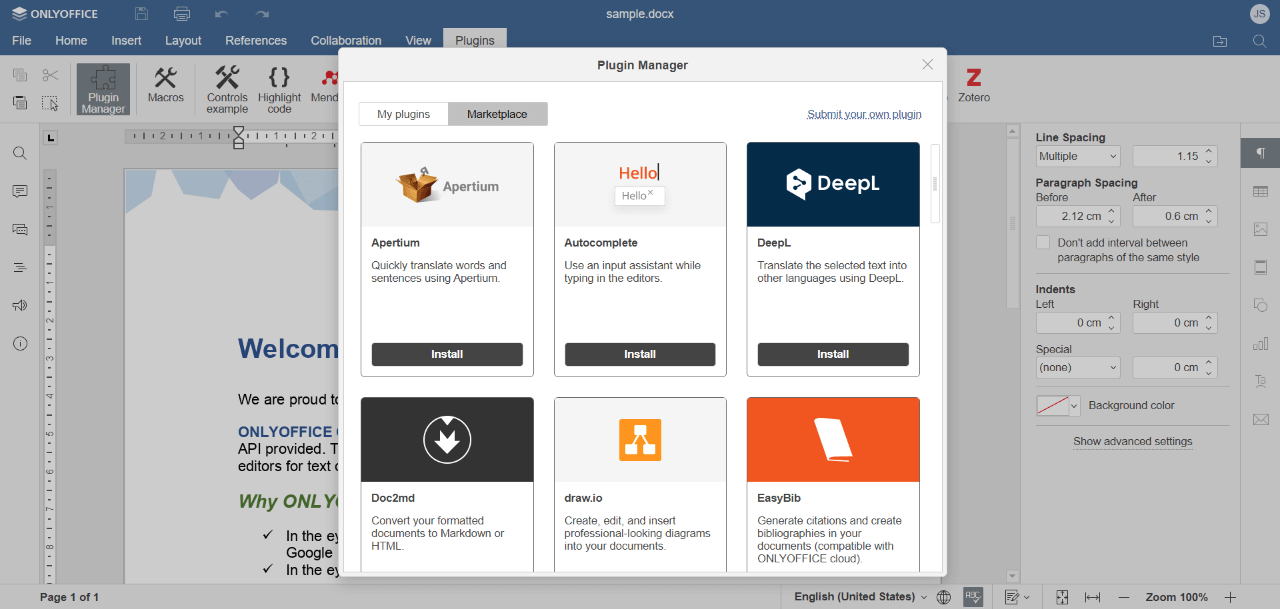 Make your fillable forms more interactive with new field types and settings
Starting from version 7.2, you can add new fields to your fillable forms. The new field types are Email address, Phone number and Complex field. The last one allows you to create any custom field according to your needs.
The new field types are traditionally located on the Forms tab and are available when you work with form templates in DOCXF format.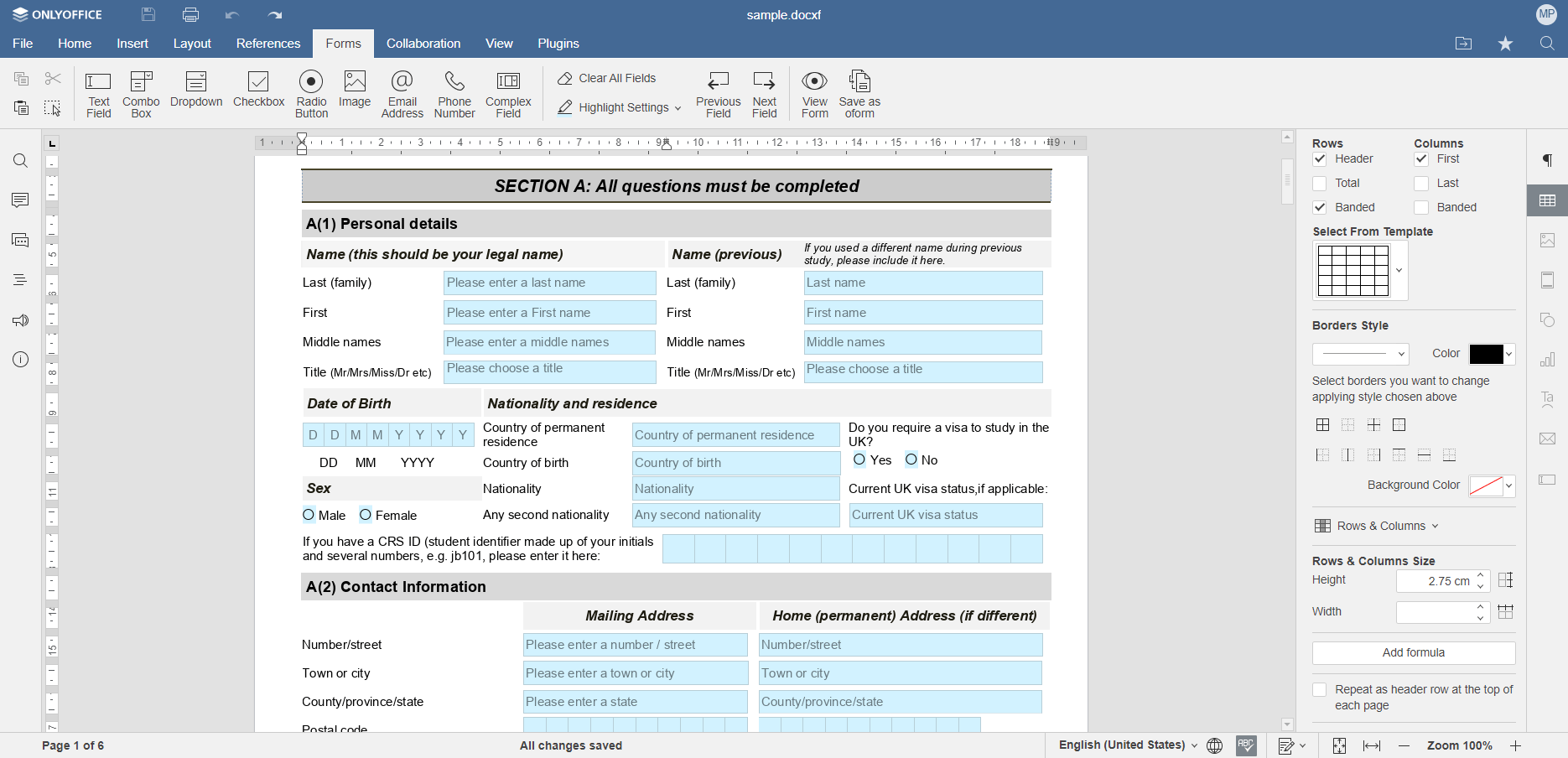 Additionally, there are new field parameters in ONLYOFFICE Docs v7.2. When adding a text field, now you can enable the use of specific symbols and specify the required format: None, Digits, Letters, Arbitrary Mask (for phone numbers), and Regular Expression (for example, for email addresses). Besides, you can assign tags to your fields.
Add ligatures in fonts
The updated version of ONLYOFFICE supports ligatures, special characters in a font that combine several characters into one. This feature makes it possible to work with new languages (for example, Bengali and Sinhala).
When working with ligatures, you can configure them and choose among the standard, contextual, discretionary, and historical types, or select the combined options.
See what your co-authors are typing with Live Viewer when viewing a document
The Live Viewer feature allows you to see all the changes made by other co-authors in real time even if your document is opened for viewing only. This option is enabled by default and works in documents opened in Read Only mode.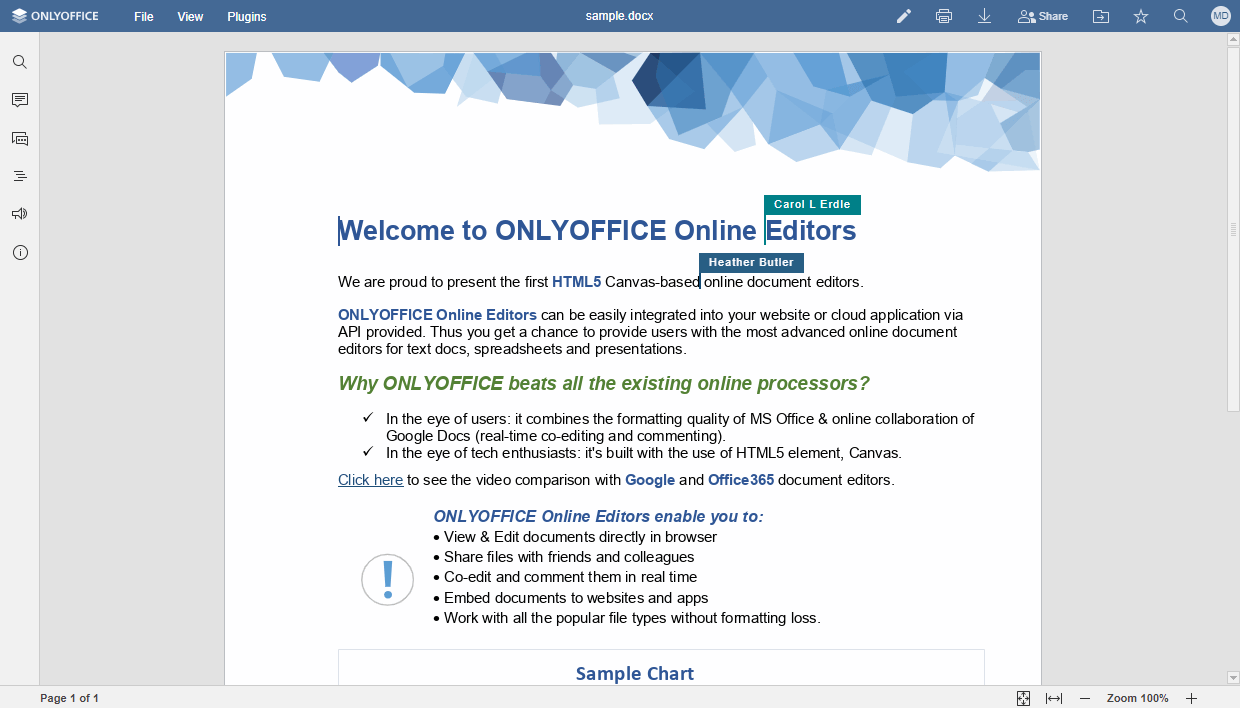 Switch to new interface themes and languages
In addition to the standard Dark mode, ONLYOFFICE Docs v7.2 introduces a new interface theme — Dark Contrast, which is a bit darker and more well-defined, so now it's more convenient to work with documents, spreadsheets, presentations and fillable forms comfortably in dark environments.
What's more, there is another new option, Same as System, that allows you to quickly set the interface theme according to your system.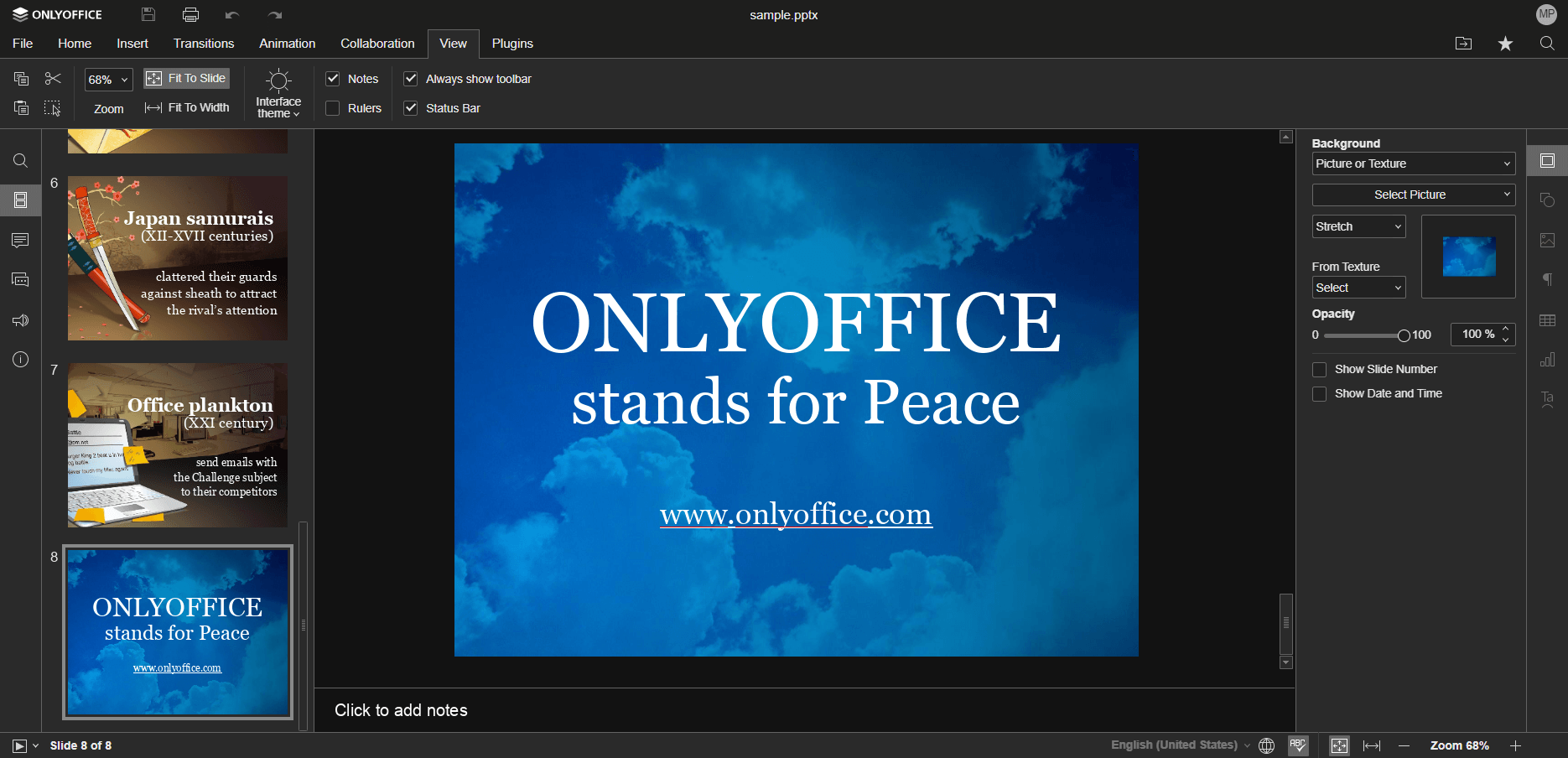 The ONLYOFFICE interface is now also available in Portuguese (Portugal), Chinese (Traditional), Basque, Malay and Armenian.
Insert spreadsheets as OLE objects in documents and presentations
Another useful feature brought by ONLYOFFICE Docs v7.2 is the ability to insert and edit spreadsheets in your documents as OLE objects. In other words, now you can insert an Excel spreadsheet into a Word document or PowerPoint presentation and edit it without opening the spreadsheet application.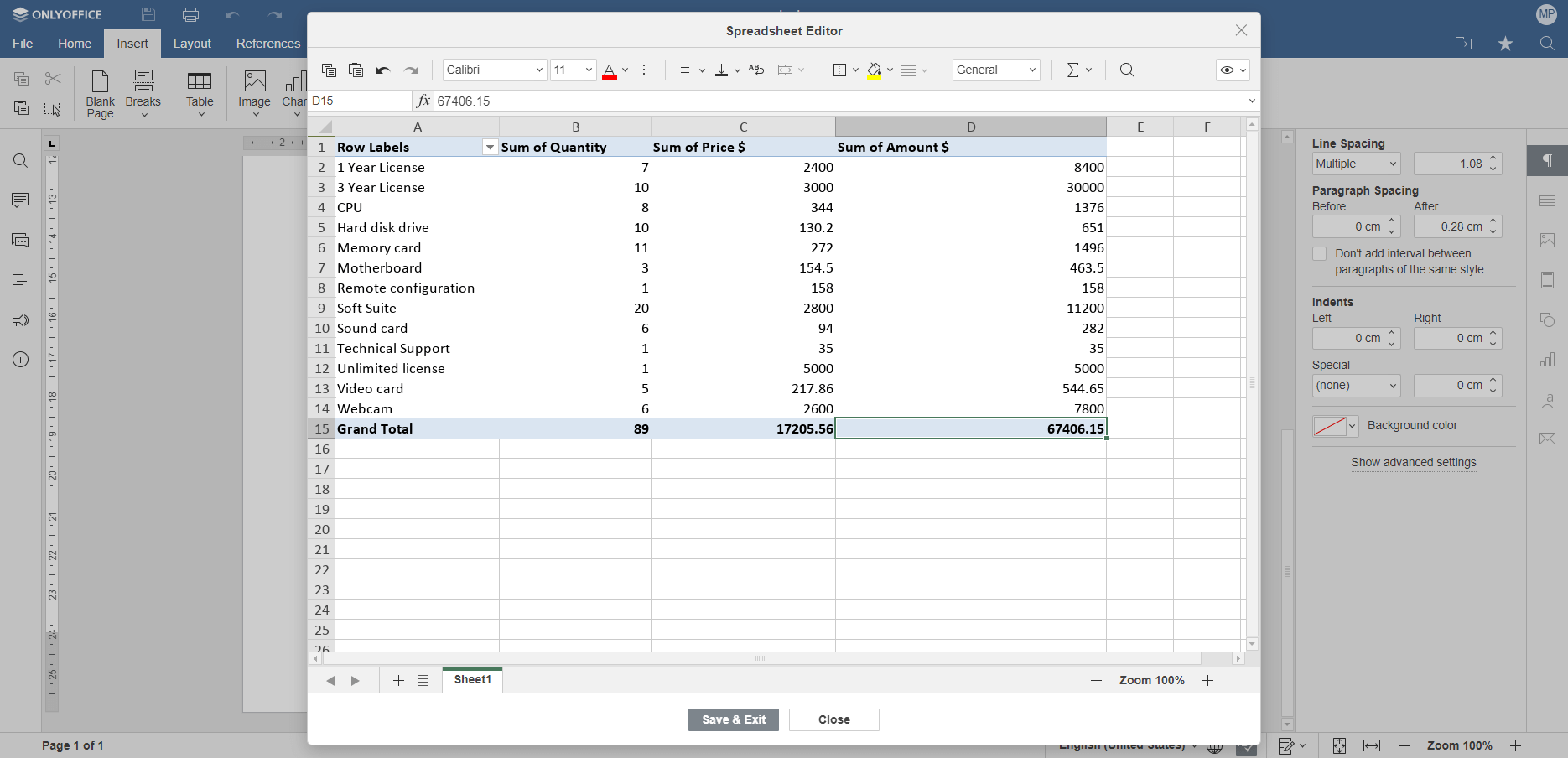 Make the most of other general improvements
Apart from the features mentioned above, ONLYOFFICE Docs v7.2 allows you to find any word or phrase in a more convenient way with a new search bar. When searching for something, you can see detailed search options and navigate through the search results on the left-side panel.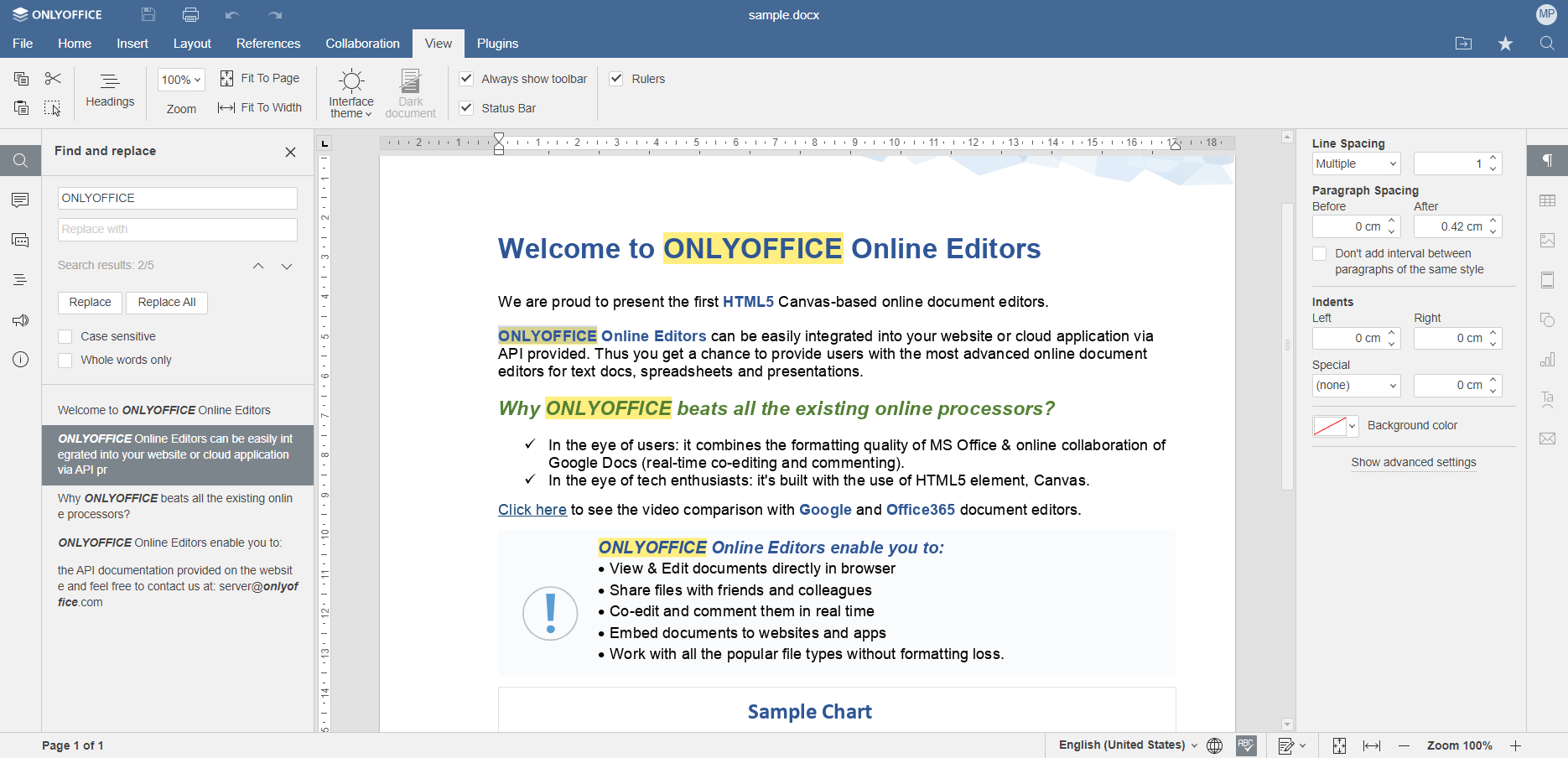 Also, if you have to copy and paste text often, now ONLYOFFICE Docs comes with new hotkeys for paste options. For example, you can paste formulas and text without formatting, or keep the current source formatting.
Another small but useful improvement is the ability to rename documents, spreadsheets, presentations and fillable forms right in the app interface. You just need to click the name of your file on the top toolbar and type a new one.
What else is new in ONLYOFFICE Docs v7.2
The updated ONLYOFFICE Document Editor offers some unique features:
Updated navigation panel with new options;
Removing headers/footers from the top toolbar menu;
New spell-checking options, Ignore words in UPPERCASE and Ignore words with numbers (also available in presentations).
When it comes to spreadsheets, there is also something interesting:
Links to data ranges;
Switch Row/Column option for diagrams and charts;
Compatibility with the 1904 date system;
Using images as markers for bulleted lists (also available in presentations)
Starting from version 7.2, the ONLYOFFICE presentation editor allows you to add custom animation paths to objects and place more precisely images, shapes, tables and diagrams within your slides due to new positioning settings.
ONLYOFFICE Desktop Editors v7.2
The desktop version of the ONLYOFFICE suite comes with the better half of the new features of the latest release. The only unique improvement for Linux is vector text printing, which allows you to print documents much faster. This feature works if the pages you are going to print out have no gradient fills.
Get ONLYOFFICE Docs v7.2
If you want to try the latest version of the ONLYOFFICE online suite, you can download it from the official website or find it on GitHub.