Last Updated on September 1, 2020
In Operation
Here's an image of fre:ac in action. In progress is the extraction of an audio CD, and the files encoded using the lossless FLAC audio encoder.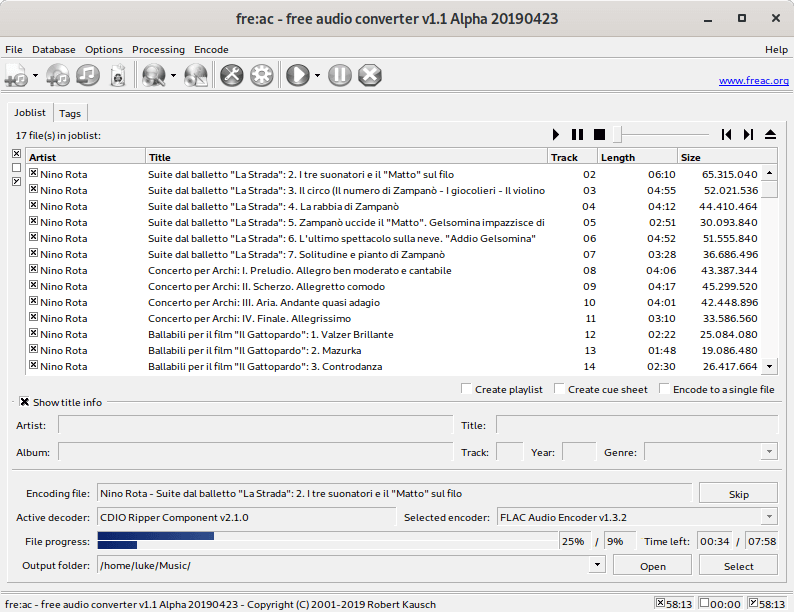 If you find the fonts too small on a HiDPI screen, I recommend starting the software with the command "freac –scale:2.0".
The user interface is intuitive, and it's quick to pick up the software's basic features. But there's some advanced options under the bonnet too that extend the software beyond ripping a CD and encoding the audio.
Besides FLAC, fre:ac comes with support for Apple Lossless Encoder, Fraunhofer FDK AAC Encoder, LAME MP3, mehl, Monkey's Audio Encoder, Musepack Audio Encoder, Ogg Vorbis Encoder, Opus Audio Encoder, SndFile Output Component, Speex Speech Encoder, WavPack Audio Encoder, and Windows Media Audio Encoder. An encoder for the VQF format is available at the fre:ac website
The integrated CD ripper supports the CDDB/freedb online CD database. It will automatically query song information and write it to ID3v2 or other title information tags. With fre:ac you can also submit freedb CD database entries containing Unicode characters. So if you have any CDs with non-Latin artist or title names (I have a few), you can submit the correct freedb entries with fre:ac.
Next page: Page 3 – Other Features
Pages in this article:
Page 1 – Introduction / Installation
Page 2 – In Operation
Page 3 – Other Features
Page 4 – Summary