exfm for Chrome and Firefox helped users get the most out of the exfm service. This browser extensions allows users to search for topics on popular sites such as Last.FM, SoundCloud or Bandcamp, and offers a new sensation in the field of streaming music.
Entering a search result will show the various sites, which can play directly through the browser and still use ex.fm. With endless possibilities to discover music, with sections such as Trending (trends) or Explore (browse) can dive into countless artists and subjects.
Exfm was a music discovery platform powered by thousands of music sites on the web. An endless feed of great music lives at ex.fm curated by Tastemakers and users alike. Exfm also boasts powerful browser extensions to play any website containing music, a slick site Player for publishers and mobile apps for iPhone and Android.
Features include:
Continuous background audio even if the browser tab/window is closed
Automatically recognise mp3s found on any web page complete with in-line playback, Loving and Sharing options built-in
Add sites to your collection as you browse
On-site mini-player for quick access to tracks on any page – provides nearly all exfm functionality tucked inside a tiny tab
Drop-down queue controls playback and sites history manages all your tracks automatically
exfm service offers:
Gallery view
Access you data on all websites
Access your tabs and browsing activity
See what is trending – updated daily
Explore Site of the Day, Genres, Album of the Week, Tastemakers, Monthly Mixtape, and Latest Loved
Link your Facebook, Twitter, Tumblr, and Last.fm accounts so that your friends can see what you see, hear, scrobble, share what you are all listening to
Keyboard shortcuts
PROJECT DISCONTINUED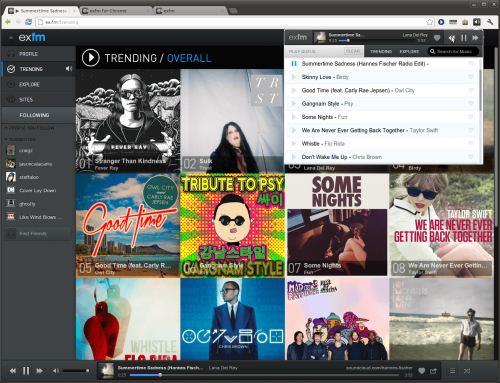 Return to Audio Players Home Page